What was once a surface parking lot for patrons of the Science Museum of Virginia is now a publicly accessible green space known as The Green. The six-acre community park transformed from 90 percent asphalt to 85 percent green space—significantly reducing the amount of impervious surface and contributing to a reduction in stormwater runoff. As a teaming partner to Glavé and Holmes, VHB provided landscape architecture and civil engineering for the project that included the master plan, stormwater management, permitting, and Environmental Impact Report (EIR).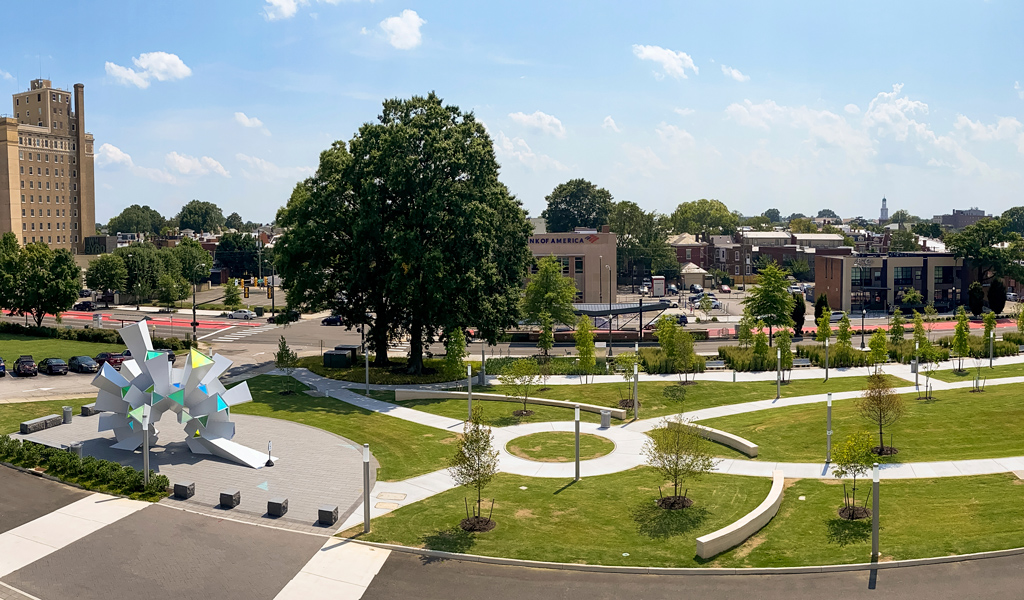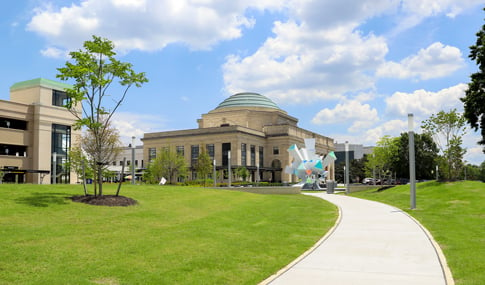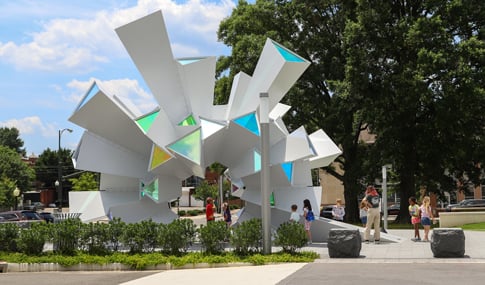 The Green is in the Scotts Addition neighborhood of the City of Richmond, a former industrial district experiencing rapid redevelopment within the last 10 years with the addition of breweries, restaurants, office space, and multi-family housing. The park is helping to meet a need in a part of the city that contains no public park spaces and little tree canopy cover. Its location along Broad Street makes it easily accessible for locals and visitors, providing an amenity space for recreation and relaxation.
"The Science Museum made the decision to implement campus changes to benefit all users—embracing the community and creating an inclusive space for everyone to enjoy, whether visiting the Museum or not," said Harley Walker, VHB's Project Manager. "This project enhances our city by promoting green infrastructure, sustainability, an improved urban tree canopy, and by strengthening community connections."
A corner plaza serves as the gateway to the park, full of native plants, tall trees, and meandering pathways that connect to an interactive sculpture plaza. A focal point within the Green standing 25 feet tall, "Cosmic Perception" invites visitors look through its dichroic glass for a kaleidoscopic view of the surrounding greenspace. An oak lined allée dotted with benches provides an evergreen buffer from traffic and noise along Broad Street. Numerous site furnishings were incorporated throughout with an emphasis on accessibility, including wheelchair pads next to each bench, and sustainable materials were also carefully selected to further reduce stormwater runoff. Prior to the completion of The Green, a free-standing, four-story parking deck was constructed for the Science Museum of Virginia and the adjacent Children's Museum, replacing the former surface visitor lot.
Plans for The Green also include additional phases for enhancements in front of the museum's main entrance at The Grand Kugel sculpture. Improvements include a continuation of the allée, a usable lawn, a raised crosswalk, and enhanced drop off area. The Green received a Greater Richmond Association for Commercial Real Estate (GRACRE) award for Best Institutional project in April 2023.
To learn more about VHB's landscape architecture services for the Science Museum of Virginia, contact Harley.