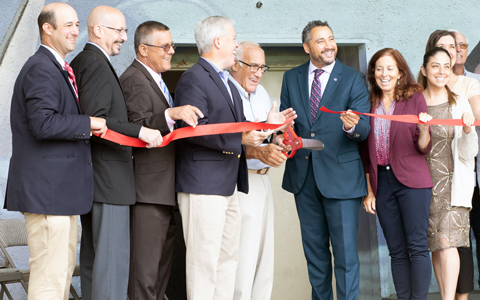 The Village of Patchogue, in partnership with VHB, recently celebrated the official completion of phase one of the Shorefront Park Living Shoreline project with a ribbon-cutting ceremony. This marks a significant milestone in the ongoing effort to revitalize and protect the community from coastal erosion while reducing the wave energy from storm surges and coastal flooding.
Replacing a deteriorating timber bulkhead, the living shoreline takes a nature-based approach to safeguarding the coastline, coupling meticulously designed natural and structural elements to provide comprehensive protection. It features more than 1,300 feet of living shoreline containing rock sill structures, salt marsh, and bio-retention basins, marking New York's largest permitted living shoreline project to date.
The ribbon-cutting ceremony brought together community leaders and Village officials, including Mayor Paul Pontieri, representatives from the New York Department of State (NYDOS) and the New York State Department of Environmental Conservation (NYSDEC), Suffolk County Executive Steve Bellone, Suffolk County Legislator Dominick Thorne, New York State Senator Dean Murray, and Adrienne Esposito, Executive Director at Citizens Campaign for the Environment. VHB's Project Manager, Carlos Vargas, along with Kevin Walsh, Chief Engineer; David Kennedy, Wetland Scientist and Environmental Permitting; and Fabrice Fantal, Construction Inspector, also attended the celebration.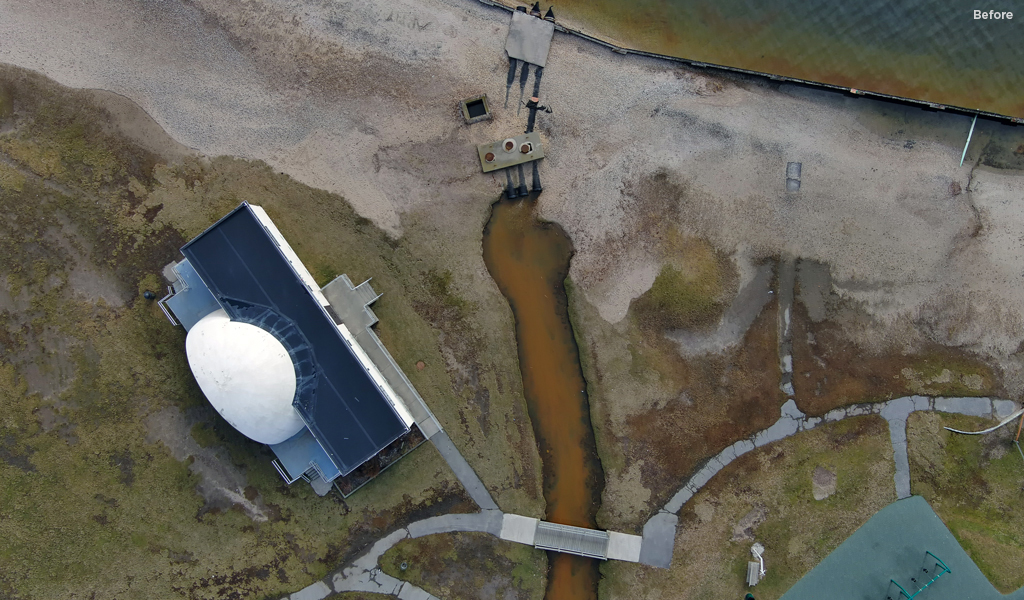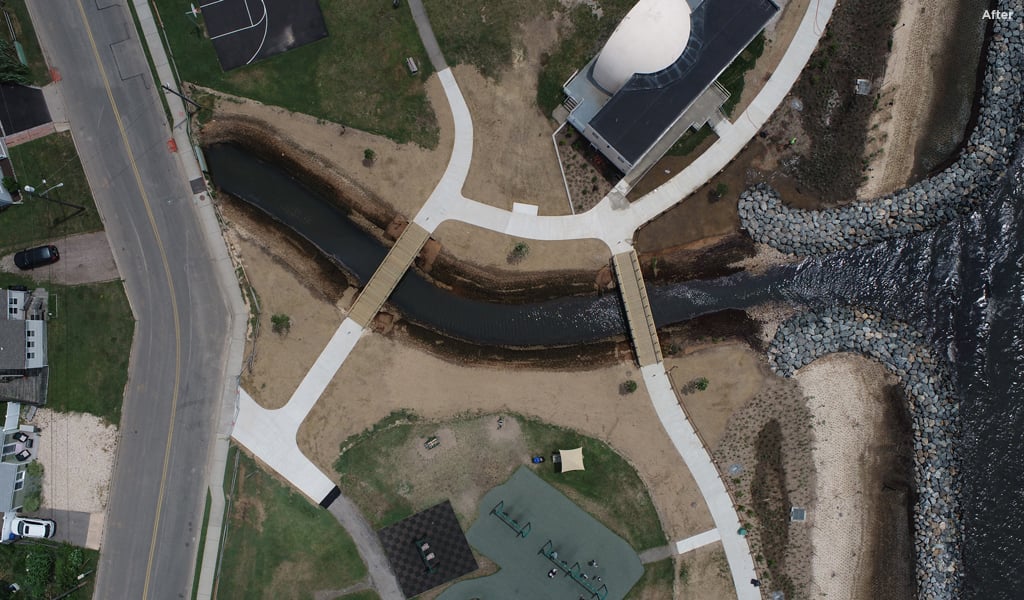 Construction for this project began earlier this year, with the team working diligently to finalize the park in under six months. The completion of phase one was timed perfectly to allow the park to host the Village's Annual Great South Bay Music Festival, a much-anticipated event that attracts more than 15,000 attendees.
In addition to revitalizing the shoreline, the project also included stream restorations of Little Creek, which flows through the middle of the park. By reconnecting the creek to the bay, tidal flushing has been restored and stream flows and capacity have been increased to help reduce upstream flooding from heavy rain events—helping to effectively alleviate the creek's flooding, stagnation, and poor water quality while offering protection for neighboring residents against potential septic system failures. VHB has also implemented innovative solutions, such as inline backflow check valves to prevent tidal backflow into the bio-retention basins while still allowing for stormwater discharge. Meanwhile, Community members now also enjoy a new promenade, waterfront access, and kayak launch.
"It's amazing to witness the environmental benefits the Shorefront Park project has already ushered in, including flourishing vegetation and enriched habitat teeming with biodiversity," said Carlos. "Our team is not only excited but deeply committed to the continued work on this project. We're eager to deliver more benefits to the community, amplifying the park's beauty and resilience. This is just the beginning of a brighter, greener future for Patchogue."
VHB has partnered with the Village on the Shorefront Park project since 2015, assisting with all major project phases, from grant funding support to design engineering to construction administration. VHB will also provide post-construction monitoring services as required by environmental permitting.
Looking ahead, the community anticipates the next phase of updates, many of which are already underway. Community members can look forward to improved park drainage, expansion and connectivity of the promenade, and park amenities, as phase two of the project is expected to be completed in 2024.
As Shorefront Park evolves into a resilient and vibrant coastal oasis, the Village of Patchogue's promise to invest in its local community and safeguard its natural environment remains stronger than ever. The project is an excellent example of VHB's commitment to sustainability, resiliency, merging their experience in engineering and design with innovative solutions for preserving upland, limiting land loss, and improving ecological integrity.
For more insights on the power of living shorelines, watch Resilient Shoreline Design, or contact Carlos Vargas to learn how VHB can help protect your coastal communities today.