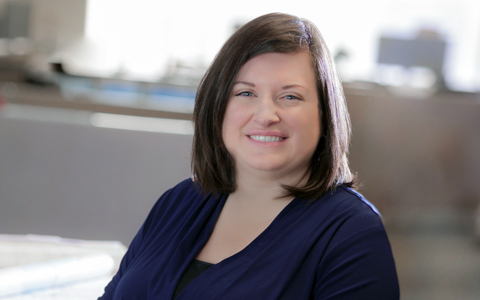 Jen McGovern, CPSM, VHB's Mid-Atlantic Regional Marketing Manager, has been appointed to the national Certification Committee for the Society of Marketing Professional Services (SMPS). The members of the Certification Committee contribute to the review of refreshed Certified Professional Services Marketer (CPSM) exam questions. The committee includes subject matter experts from across the United States who provide guidance and direction to confirm the CPSM exam highlights current best practices in marketing for professional services firms.
The CPSM credential is offered by SMPS to recognize marketing and business development professionals who have made a commitment to professional excellence, career advancement, and an ongoing pursuit of knowledge. To achieve the CPSM certification, candidates must demonstrate mastery of six domains of practice: Marketing Research, Marketing Planning, Client & Business Development, Proposals, Promotional Activity, and Management. VHB marketers across the firm's footprint are counted among the nearly 1,000 CPSMs nationwide. Learning and Development is a VHB core value, and pursuit of professional development opportunities at all career levels is encouraged.
Since achieving her CPSM certification in 2015, McGovern participated in the 2017 revision of the CPSM exam and has presented on the domains of practice nationally and for chapter study groups from New York to Florida to California.
Connect with Jen McGovern, CPSM via email or on LinkedIn. Visit SMPS for more information about the CPSM certification.