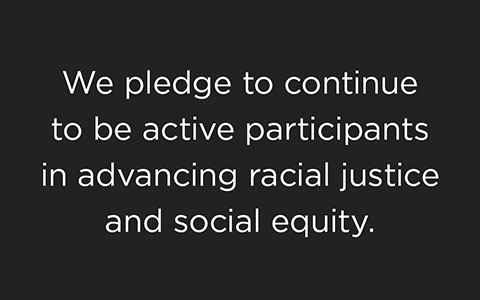 To Our Clients, Partners, and Friends,
The protests taking place across the world to end racial and social injustice are powerful, and their message is loud and clear: Black lives absolutely matter, and we need additional, sustained action to help make racial and social justice a reality.
Like much of the world, we have spent the past several days reflecting, listening, learning, and planning for action that will contribute to meaningful change. As a company that holds diversity as a core value and whose purpose is to improve our communities through the work that we do, we will not be silent about racial injustice. We won't be afraid to continue to take bold steps to help our communities, our company, our industry, and our world do better.
We also realize that words alone are not enough; dialogue must be accompanied by action. VHB has been a leader in taking concrete steps to move our company and our industry forward on the pressing issues of diversity, equity, and inclusion, and we are committed to doing our part to help make racial and social justice a reality.
We are mindful that the journey is long and that much work remains to be done. We have learned a lot along the way and have made some mistakes. We don't have all the answers, but we're committed to keep going…to keep listening and learning, to keep getting better. Here are some of the things we are focusing on now:
Fostering a culture of inclusion
Every conversation is a chance for greater understanding, and VHB fosters constructive dialog around the issues of race, unconscious bias, and diversity. Our employee resource group, the VHB Inclusion, Diversity, and Equity Alliance—provides one important platform for this dialog. Last week, we held an open forum for employees to listen, learn, share, and connect around injustice, racism, and bias. We will continue this dialogue with a series of discussions open to all employees.
Earlier this year, our Leadership Team participated in an unconscious bias workshop, and we are in the process of rolling this program out to all employees.
Advancing our profession & industry
VHB is proudly leading the way in advancing diversity and inclusion in the AEC industry. We spearheaded and co-sponsored the first D&I-focused survey conducted in the industry, establishing a baseline to benchmark D&I program development. With the support of our Board and Leadership Team, our CEO Mike Carragher co-led the engagement of 60+ industry CEOs and the formation of a D&I Working Group comprised of 22 firms. Earlier this year, the group published its findings and best practices in a report for industry leaders to reference as they continue to advance D&I in their firms. We're now working with ACEC to incorporate the findings in the report into their annual conference learning objectives and into the priorities of the ACEC Research Institute. We will continue our work within our industry to drive change and advance D&I practices.
Driving equity in our communities
We will continue to live out the core values that our founders laid out for us, demonstrating mutual respect, equality, and the benefit of diverse perspectives. We will continue to work to ensure that our practices are in alignment with healthy community design principles in an effort to advance racial and social equity.
We will build upon our robust charitable giving program, strengthening relationships with organizations committed to racial justice and social equity. This will begin now with monetary donations to the The Loveland Foundation and The Southern Poverty Law Center.
Our VHB community stands in solidarity against racism. We pledge to be active participants in advancing racial justice and social equity; to hold ourselves accountable to this commitment; and to serve as a positive force for a more equitable future—for our communities, our industry, and our nation.
Sincerely,
The VHB Team