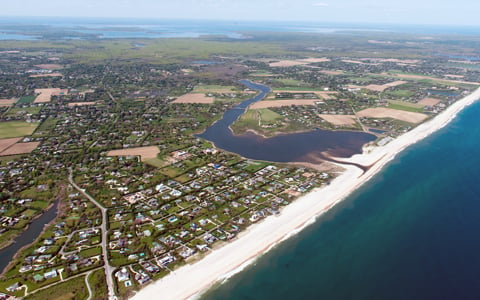 The effects of Superstorm Sandy are still being felt along Northeast coastlines, including 1,000 miles of shore along Long Island's Suffolk County. The Suffolk County Resiliency Study aims to mitigate the impacts of strong storms that pose a danger to coastal communities and are a direct result of climate change. As a key member of the planning team, VHB is helping County officials and community members kick-off a plan to identify County-owned assets that will be prioritized for implementation of adaptation and mitigation measures, making them more resilient to large-scale storm events.
VHB is part of a consultant team that will partner with the Suffolk County Department of Economic Development and Planning and a Project Advisory Committee (PAC) made up of elected officials, County staff, environmentalists, and other key stakeholders to identify the Top 25 County assets for resiliency enhancements. VHB is creating an interactive, web-based geodatabase tool that will illustrate County-owned properties most at risk from sea level rise or flooding. VHB will use a spatially-enabled mobile application to optimize field data collection and create a central database to store all the collected data.
"Coastal resiliency is integral to the future of communities across Suffolk County and Long Island. By leveraging technology, VHB will help the County make the most of the allocated funds, inform future decisions and capital investments, and enhance the resiliency of those crucial assets that help keep our communities operational," said Lou Bekofsky, Director of Environmental Planning. "This proactive approach to making these facilities and assets more resilient means the costs associated with repair after major storms can be significantly reduced."
VHB is also facilitating stakeholder meetings for the Study. Once priority projects are identified through the geodatabase, the PAC will determine how each project will enhance resiliency through nature-based or built solutions.
For more information, contact Lou Bekofsky.
Read how VHB is Building a Sustainable, Resilient, and Equitable Future.