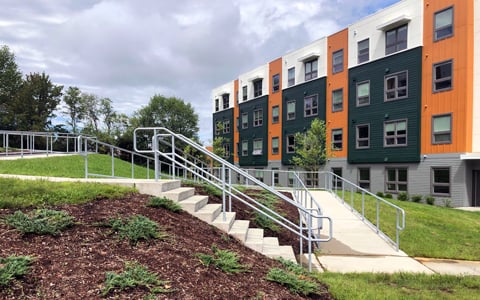 The Summit at Juniper, a new graduate student housing community at Dartmouth College, has been awarded LEED Gold Certification. LEED (Leadership in Energy and Environmental Design), developed by the U.S. Green Building Council, is the most widely used green building rating system in the world. Through design, construction and operations practices that improve environmental and human health, LEED-certified buildings are helping to make the world more sustainable. VHB assisted the development team, a Public-Private Partnership (P3), and played a critical role in designing the new infrastructure for this complex.
Developed by Michaels Student Living LLC, in partnership with Dartmouth College, The Summit on Juniper helped alleviate Dartmouth's graduate student housing shortage. Currently, 30 percent of the 2,000+ graduate students live in college-owned housing. Located on 53-acres south of the Dartmouth Hitchcock Medical Center, this residential community contains 309 units in four buildings, including 638 beds in fully furnished apartments with spacious layouts and modern amenities. The residential buildings are centered around a community clubhouse and the students benefit from workout rooms, study spaces, on-site bike storage, parking, green space that includes links to nearby hiking trails, and a shuttle service to campus.
VHB partnered with the development team to design the infrastructure to support an $84 million investment in this new community, providing survey services, civil engineering, landscape architecture, environmental services, and traffic support. Additionally, our team worked closely with the City of Lebanon to extend sewer line access to the property, which also benefited surrounding properties, including additional Dartmouth College property. We also provided environmental monitoring during construction, which was critical at the site and included significant earthwork in an area of high groundwater.
"VHB has been working for higher education institutions for more than forty years," said David Fenstermacher, Managing Director, New Hampshire. "We enjoyed partnering with Michaels Student Living to fast-track this new community under an accelerated schedule to meet the needs of incoming students. The project was jumpstarted in early 2020, before the COVID pandemic, and we worked closely with the City of Lebanon to run virtual community meetings, which were essential to permit this project and move it forward to meet its August 2022 opening day schedule."
To learn more, visit our Higher Education page or connect with Dave.