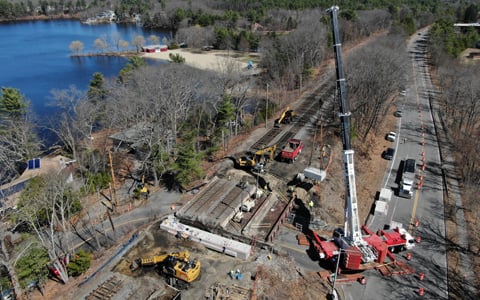 As part of the $8 billion five-year Capital Investment Plan aimed at modernizing infrastructure, improving accessibility, and providing safer transit within the Commonwealth, the Massachusetts Bay Transit Authority (MBTA) has begun the replacement of six bridges along its Framingham/Worcester, Lowell, Haverhill, and Newburyport/Rockport commuter rail lines. The Bacon Street, Intervale Road, High Line, Parker Street, Lynn Fells Parkway, and Commercial Street bridges are all included in the MBTA's Rail Bridge Replacement Project and deemed as nearing the final stages of their useful life. When completed, the new bridges will have an expected service life of 75 years and will improve the state of good repair of the T's commuter rail system.
The MBTA selected design-build delivery for the bridge bundle project, encouraging innovation and reducing costs, while streamlining design and construction time. The design-build process allows for better communication and collaboration between contractor, designer, and MBTA staff. Having "one" team will allow for all six bridges to be replaced within a two-year construction season period.
VHB partnered with Barletta Heavy Division, serving as lead designer providing traffic, highway, and track and utility design, as well as environmental permitting, railroad operations, and quality control and assessment. VHB provided additional support, working closely with the MBTA to develop a public engagement campaign to keep communities and commuters informed on project impacts and progress.
With each bridge having their own set of needs and circumstances, VHB's design team provided innovative solutions to solve for the varied challenges. Five of the six bridges will be built using precast concrete substructure components and leverage consistent details to simplify design, fabrication, and construction. Most of the bridges will be replaced using Accelerated Bridge Construction (ABC) techniques, including self-propelled modular transporters (SPMTs).
The Bacon Street and Intervale Road bridges are located within just one mile of each other on the same line and will be replaced simultaneously over a single weekend. Although challenging to coordinate double crews and equipment needed, VHB designed the bridges with common details and nearly identical construction sequences to simplify the process and reduce impacts to the traveling public.
At the High Line bridge in Somerville, poor soil conditions put the new embankment at risk for long-term settlement after construction. The design-build team developed an embankment fill and wall system to lessen the soil load, and using Low-Density Cellular Concrete (LDCC), created a balanced solution that minimizes any increase in weight on the existing soil.
"Each bridge was unique in how the replacement needed to take place," said Andrew Burkholder, PE, VHB's Director of Structures, Massachusetts. "The design-build team took each challenge into consideration and implemented advanced solutions that are cost-effective, while using the most modern techniques available to maximize future life and minimize rail disruption."
The Bridge Bundle project is expected to be complete in 2022. To learn more about this project or VHB, contact Andrew Burkholder at aburkholder@vhb.com.