US Department of Transportation's Advanced Air Mobility Interagency Working Group (IWG) recently gathered at Syracuse Hancock International Airport (SYR) in New York. This significant meeting aimed to strategize incorporating advanced air mobility (AAM) aircraft into the national airspace and airport system, marking a major leap in the progression of AAM. The event was comprised of members from various federal departments and agencies and included VHB's Fin Bonset, Director of Aviation Services. With a comprehensive portfolio of AAM projects, Fin also serves as a project manager for VHB's initiatives at SYR.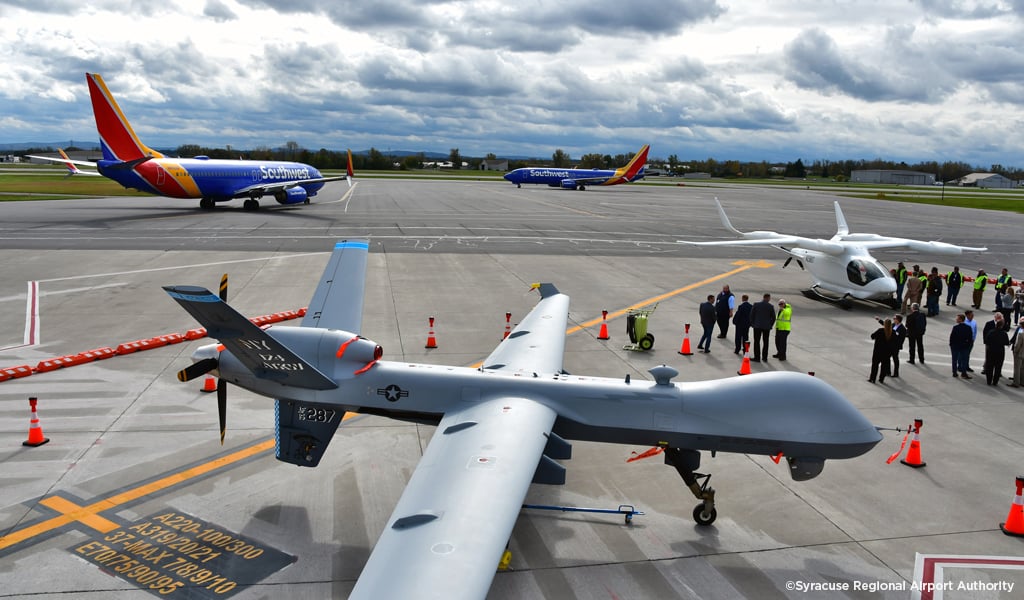 AAM, a visionary concept evolving into operational reality, aims to transform mobility with safe, efficient, and sustainable solutions for transporting people and cargo through innovative electric, alternative energy, and autonomous aircraft technologies. The AAM IWG is tasked with developing a comprehensive national strategy that covers safety, operations, security, infrastructure, air traffic concepts, and funding needs to advance early AAM.
VHB's involvement in this project results from an invitation from the Syracuse Regional Airport Authority (SRAA), in recognition of VHB's role as prime consultant responsible for conducting the airport's Master Plan Update. This update is unique in that it is one of the first master plans in the nation to incorporate AAM and Uncrewed Aircraft Systems (UAS) elements into a 20-year infrastructure development plan, as well as identifying potential federal and private funding opportunities.
As part of their contribution, VHB conducted AAM site location analyses within the draft master plan. These analyses were then transformed into a digital twin format by NUAIR, the SRAA's UAS facilitator. This transformation allowed for a comprehensive understanding of the current and future impacts of AAM activities on SYR, particularly in the context of its regular commercial and military operations.
Notably, Syracuse is home to the nation's first USDOT-approved UAS corridor, currently utilized by several UAS operators, including the military. In addition, the entire process is also orchestrated by the nation's first-ever UAS control center located within an active airport. This pioneering facility is specifically located within the terminal building complex at SYR. SYR is also the first commercial airport to have a fully integrated Remote Piloted Aircraft (RPA) program in partnership with the 174th Attack Wing, a unit of the New York Air National Guard that operates the MQ-9 Reaper RPA program stationed at SYR.
"Our work at the forefront of integrating UAS and AAM in today's aviation system represents a pivotal moment in the evolution of air travel," said Fin. "We are committed to driving innovation in the aviation industry, focusing on enhancing sustainability, safety, and efficiency while keeping an eye on economic growth and job creation in Upstate New York and beyond."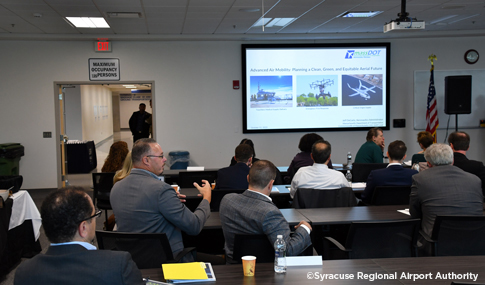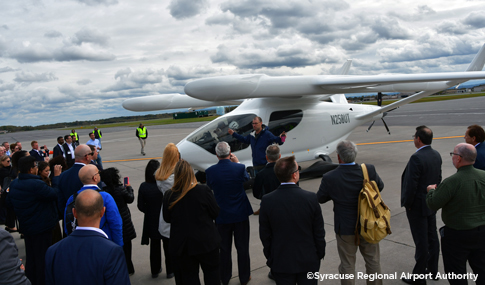 As the landscape of advanced air mobility continues to evolve, the collaborative efforts of the DOT's AAM IWG, and the innovative contributions from projects like the Syracuse Airport Master Plan Update, pave the way for a new era in aviation.
Discover more about VHB's pioneering aviation solutions and connect with Fin Bonset today to play a role in shaping the future of air mobility.