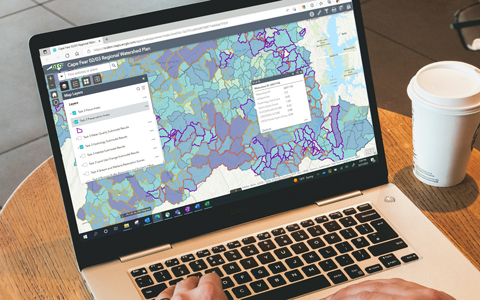 The Cape Fear 02/03 Regional Watershed Plan (RWP), completed last month, is a first of its kind approach to watershed planning—offering a template for future watershed plans across the State. Initiated by the North Carolina Division of Mitigation Services (DMS), the Cape Fear RWP assessed current conditions and identified watershed improvement opportunities in advance of significant land use changes and impacts. With many ongoing efforts from engaged landowners and local government agencies already occurring within the watershed, the RWP supported and built upon existing stakeholder processes to cohesively identify watershed needs and implement improvement projects. VHB supported DMS with the development of the RWP, leading all modeling and reporting tasks, stakeholder engagement, and development of the final web page for public use.
In geographic areas with the greatest risk for functional loss, the Cape Fear RWP prioritized these areas for reduction of built environment impacts— implementing restorative and protective measures where the greatest potential ecological uplift exists. VHB used a data-informed approach to develop the RWP, utilizing data from a range of sources, including Federal, State, and local agencies, and data at the USGS catchment-scale. By providing watershed results at the catchment-scale, DMS could more accurately assess candidate mitigation sites for restoration uplift based on its function within the greater watershed. This innovative approach is an advancement from past watershed planning methods as it provides a more detailed analysis of stressors and indicators that traditional datasets may not reveal.
A secondary benefit of this RWP is that its models, or workflows, were developed to be replicated and scalable. Jenny Fleming, Mid-Atlantic Water Resources Lead at VHB provided insights on this, stating, "We wanted stakeholders across the State to be able to easily replicate this for their own needs—to save time and ultimately money. With it being a template, it also has more opportunities for its use than just watershed planning, such as revealing sites for mitigation, stormwater management, habitat restoration, and more."
The 620-square-mile study area of the Cape Fear RWP is located in central North Carolina, west of Raleigh's metropolitan area—a rural mix of agriculture, forests, open water, and wetlands. There are significant natural resources within the proposed RWP area, including several Natural Heritage Program's natural areas as well as state and federally listed species. It's also a rapidly developing area of North Carolina with Chatham Park mixed use development and three economic development megasites identified within the watershed. In addition to the RWP, VHB developed an interactive web map and provided the underlying datasets to DMS.
To learn more about VHB's capabilities, visit the Water Resources page on our website, or contact Jenny Fleming. The Cape Fear Regional Watershed Plan is also available to view online.