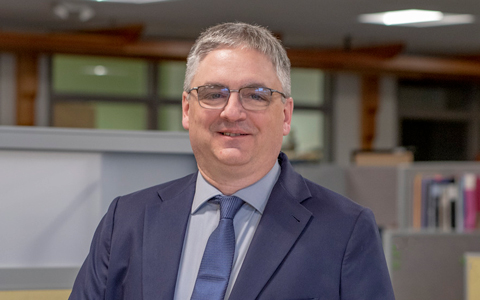 VHB is very pleased to announce that Wayne Symonds, PE, has joined its South Burlington office as Senior Structural Engineer. Recently retired from a memorable and productive career with the Vermont Agency of Transportation (VTrans), Wayne brings nearly 30 years of experience in serving the traveling public to his new role.
"VHB and the rest of the Vermont engineering community hold Wayne in high regard, and for good reason," said Aaron Guyette, PE, Transportation Market Lead, VHB, Vermont. "As a superb problem solver, he investigates a project from every angle and determines the smartest way to deliver it. Wayne's creative insights and emphasis on collaboration will make an immediate impact here at VHB, as those attributes guide all the work we do."
Joining VTrans after earning his civil engineering degree from the University of Vermont, Wayne has devoted himself to bettering Vermont's roadways. That commitment defines his professional journey from Structural Designer to Structures Program Manager and, finally, Chief Engineer of the Highway Division—VTrans' largest division. In his previous role, Wayne was responsible for 950 employees, overseeing Traffic Safety and Management, Asset Management, Design, Construction, Fleet Management, and Maintenance operations.
Bridges were a focal point of Wayne's work at VTrans and the numbers speak to his success at maintaining these crucial components of Vermont's infrastructure. The Federal Highway Association's 2021 National Bridge Inventory classified just 2.4 percent of the state's 2,836 bridges as structurally deficient.
At the root of that success was the Accelerated Bridge Program (ABP) that Wayne spearheaded in 2012. This visionary program won Wayne accolades in Vermont and elevated VTrans—a transportation department serving a small, mostly rural state—to being a national leader in bridge design and construction. Tropical Storm Irene's devastation served as a catalyst for the ABP, which worked with VHB and other firms to cost-effectively deliver 14 bridge replacement projects within 24 months. Embracing alternative project delivery methods—namely Design-Build (DB) and Construction Manager/General Contractor (CMGC)—has been instrumental in achieving the ABP's goals. VTrans has partnered with VHB to deliver multiple successful large DB and CMGC bridge projects.
Among the ABP's many success stories, an award-winning project designed by VHB replaced East Middlebury's Sand Hill Bridge on Route 125 in only 45 days, compared to what more conventional construction would require. Another landmark ABP accomplishment during Wayne's tenure at VTrans was the Middlebury Bridge & Rail Project. This outstanding collaborative effort between VTrans and VHB was completed ahead of schedule thanks to a 10-week accelerated bridge construction effort.
Wayne's guiding principles are to look for ways to do it better and more simply. From designing Vermont's first integral abutment bridge to modernizing VTrans' fleet management systems, Wayne has always sought the most pragmatic solutions that take full advantage of innovation while maintaining his astute stewardship of Vermont's bridges.
Read more about VHB's experience with State DOTs, and connect with Wayne to learn how VHB can assist you on your next transportation project.