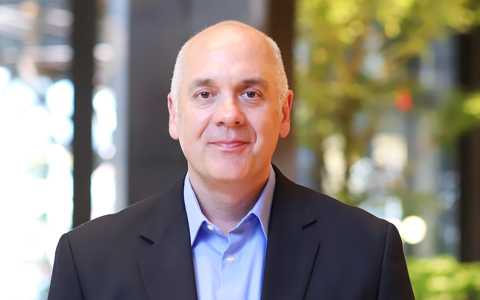 VHB is pleased to welcome Joe Pizzurro, PE, as Managing Director of our New York City office. In this role, Joe will support and enable strategies that enhance client relationships, project delivery, and strategic pursuits across markets within the New York City metropolitan area.
Joe's reputation in New York City's transportation market is that of strong leadership and next-level service for his clients and his team. A civil/structural railroad engineer and visionary entrepreneurial growth leader, Joe brings his unique experience to VHB, including work on transformational rail and transit projects such as the reconfiguration of Long Island Rail Road's (LIRR) Jamaica Station complex and several Metro North Railroad (MNR) stations and bridges, including Yankees East 153rd Street and Yonkers stations and bridge replacements on the Hudson, Harlem, and New Haven lines.
"With his broad industry experience, established client relationships, and engineering knowledge, we are confident that Joe will lead our office to unprecedented success for our team and our clients," said Mike McArdle, Chief Development Officer. "Joe's 27 years of design, construction, and management experience in the tri-state area will continue to enhance VHB's capabilities to our New York City clients."
Throughout his career, Joe has delivered projects for clients such as NJ TRANSIT, MNR, LIRR, New York City Economic Development Corporation (NYCEDC), and Port Authority of New York and New Jersey (PANYNJ) and is a strong advocate for advancing transit equity. He actively participates in several organizations, including American Society of Civil Engineers (ASCE), Metropolitan Railway Club, and American Railway Engineering and Maintenance-of-Way Association's (AREMA) Technical Committee—High Speed Rail Systems.
Prior to VHB, Joe served as a rail market sector leader for a transportation infrastructure solutions firm, serving public and private owners and contractors while successfully leading multi-disciplinary projects and programs for several New York metropolitan transportation clients. Joe has served in progressively senior leadership roles, starting as a designer, then advancing to project engineer, project manager, and practice builder for major engineering firms. He holds an AAS in Architectural Technology and a Bachelor of Science degree in Civil Engineering from the State University of New York (SUNY) and is a licensed engineer in New York, New Jersey, and Connecticut.
Connect with Joe.