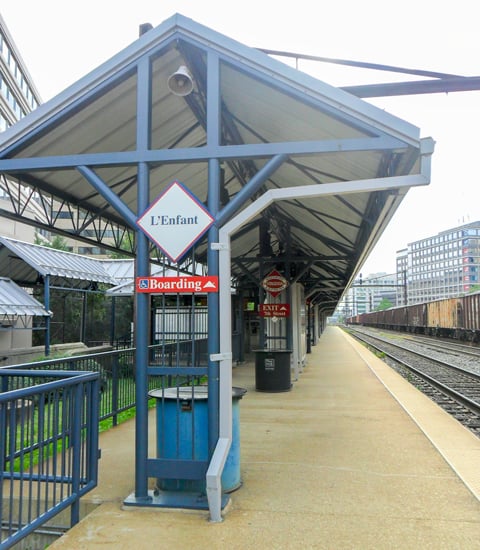 Virginia Railway Express (VRE) launched the alternatives analysis and concept design phase for the L'Enfant Station and Fourth Track project this spring. When complete, this project will replace the existing side-platform commuter station with an island platform, allowing for bi-directional service and operational flexibility. This project will also add a fourth mainline track to the existing three-track corridor, increasing service reliability and customer convenience. As lead consultant, VHB is providing alternative analysis, conceptual design, and stakeholder coordination services for this commuter rail service station located in the Southwest Federal Center neighborhood of Washington, DC.
As one of two VRE stations in the District of Columbia, the existing L'Enfant Station is located between Union Station in Washington, DC, and Crystal City in Arlington, VA. The expansion and improvements at L'Enfant Station are part of a cohesive rail vision for the region to expand passenger rail capacity and improve operations beginning at Union Station and continuing as far south as Richmond, VA. This rail vision, known as Transforming Rail in Virginia, is a statewide program striving to grow and enhance passenger, commuter, and freight rail and improve connectivity between the Northeast and Southeast rail corridors. Part of this vision includes the Long Bridge expansion project that was necessary due to the two-track capacity not meeting the demand for this major crossing—often creating bottlenecks and congestion.
"It's an exciting time for rail across the Commonwealth," said Mark Colgan, VHB's Project Manager for the L'Enfant Station project. "By advancing the Transforming Rail in Virginia vision, agencies across our region are working together for a common goal of enhancing a vital connection in America's national rail network. The L'Enfant Station improvements are a building block for making the rail network a more reliable mode of transportation for commuters and passengers and expanding options available during evenings and weekends."
In addition to the L'Enfant Station and Fourth Track improvement project, VHB is working on numerous projects to enhance connectivity and mobility across the region. VHB was selected as the engineering consultant for the preliminary engineering phase of the Long Bridge rail project; is leading planning and design efforts for the VRE Crystal City Station in Arlington, VA; and is providing conceptual design and environmental planning for the CC2DCA connection project between National Landing and Ronald Reagan Washington National Airport. VHB's integrated services approach includes land development, urban planning and design, environmental, transportation, and applied technology.
Interested in learning more about how we are improving connectivity across the Metro DC region? Contact Mark Colgan at mcolgan@vhb.com.