As construction progresses for the new Williamsburg, Virginia, fire station, community members are looking forward to completion of this new state-of-the-art facility. As the only fire department in the city, the new building will include the typical operations and functions of a fire station, an Emergency Operations Center (EOC), and Fire Administration Headquarters. As a teaming partner to GuernseyTingle, VHB is supporting the design-build team by providing landscape architecture, survey, and civil engineering services.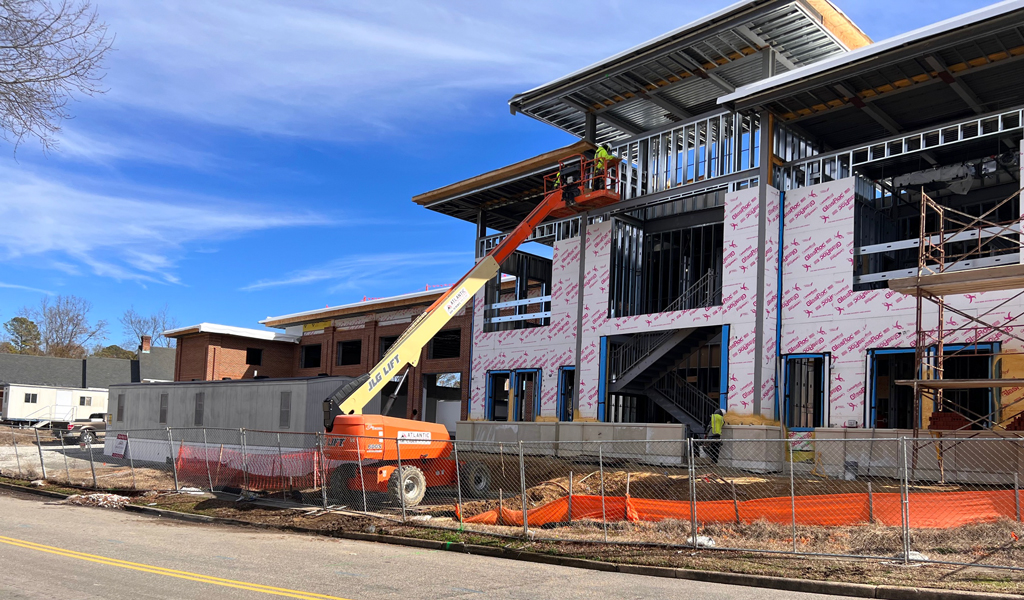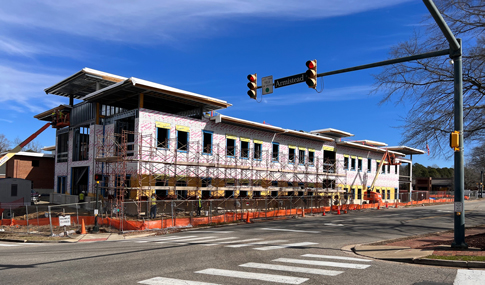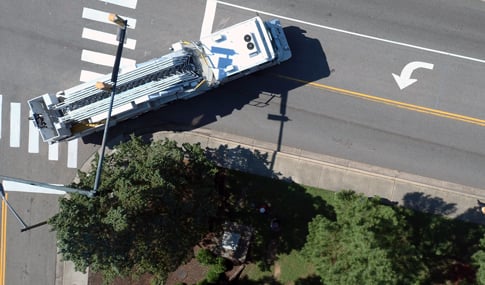 The original fire station, built in 1978, served the community for more than 40 years and was due for an update. Improvements to the 31,000-square-foot facility include individual bunk rooms for fire personnel, an independent alerting system that will notify only the necessary people for each specific situation, and a new digital EOC that will allow for better situational monitoring compared to the outdated analog system. The fire house provides emergency services to approximately 10 square miles, including Colonial Williamsburg and the College of Williams & Mary. It also has a mutual aid program with the James City County and York County fire departments.
A unique challenge during the design process was the site plan because the new fire station is being constructed in the same spot as the former one. A temporary facility was set up in the adjacent parking lot so that fire and EMS services could continue to serve the public throughout construction. The current site posed a challenge for accommodating all the new additions, including high speed bi-folding garage doors to eliminate time exiting the station in an emergency, as well as an outdoor amentity space, courtyard for ceremonies, and training space for the firefighters.
"The site is located in the center of town and is next to the Williamsburg Transportation Center that services Amtrak and Greyhound as well as the police station and post office," said Ricky Wiatt, VHB's Project Manger. "All of these important services are located adjacent to small, two-lane roads with lots of traffic—making access to and from the site challenging. VHB focused on solving these site constraints, which was critical for keeping these emergency services fully functioning throughout construction."
Another logistical concern was the turning radius of the fire trucks and apparatus while accessing the roadway. To map the vehicles exact movements, VHB's traffic engineering team used a drone to capture footage as the firefighters drove their trucks and performed every turn to make certain all vehicles would fit. To provide a safe exit for the vehicles and to utilize every second in an emergency, the entrance and exit were moved to a side street. "We're using every inch of available space to make the best updates for the community's new fire house that it deserves," said Ricky.
The new fire station is scheduled to open in the fall of 2023. To learn more about the project, contact Ricky Wiatt.