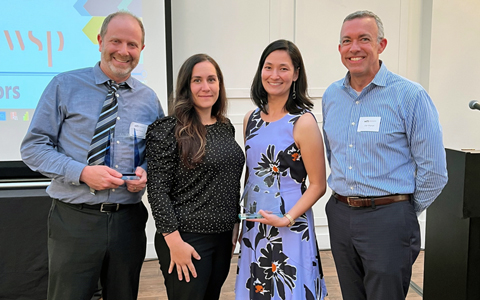 At this year's Women's Transportation Seminar-Rhode Island (WTS-RI) Annual Awards Dinner, VHB was honored with two awards from 2020-2022. The 2021 Innovative Transportation Solutions Award was presented to VHB's Joe Wanat, now Managing Director of Metro DC, and Kristin Caouette, Project Manager, for the Rhode Island 2040 Long Range Transportation Plan. Kristin also received the 2020 Member of the Year award for her longstanding commitment and involvement within the organization in significant leadership roles. These awards help to support VHB's efforts to expand the development of women's roles in the A/E/C industry, along with reinforcing our commitment to WTS-RI.

Since 2006, WTS-RI has helped advance women's careers in transportation through mentoring, training, networking, and outreach. Being involved in professional organizations is a rewarding experience, and VHB is proud to have three women from our Providence office in leadership positions within WTS-RI. Kristin, currently Vice President, has been a member since 2014 and has held multiple positions including Director of Programs, Secretary, and Director of Fundraising. Ashley Cunha, Treasurer, has been a member since 2015 and was previously Student Outreach Committee Director, and Sasha Weller, Director of Programs, has been a member of since 2017. Being members of the Board has provided opportunities for these VHB employees to expand their professional and personal networks, learn new management skills, and take on new leadership responsibilities within the industry.
VHB is a top employer for women in the industry and is dedicated to supporting professional development, securing our employees' future, investing in stewardship, and committing to diversity, equity, and inclusion (DEI). These are VHB's core values, and we demonstrate them by offering financial support for professional development, providing mentoring and thoughtful career development opportunities, creating a DEI Steering Committee to support strategic advancement, and cultivating an open and supportive culture.