VHB's holistic approach includes working hand-in-hand with healthcare facilities and providers to create unique experiences for patients and visitors that go beyond the building walls. From local Veterans facilities to retirement communities and new patient towers, landscape architects and planning professionals can help healthcare providers elevate therapeutic landscapes as an integral part of patient treatment and recovery for diverse populations. VHB's Ivy Clinton is doing just that.
If there's one thing that stands out the most in her career as a landscape architect, influencing the experiences she delivers, it's the support and guidance of her mentors. When starting her career in the Tampa Bay region, Ivy worked closely with and learned from fellow landscape architect, VHB's Bill Bowers. Ivy's career trajectory led her to Massachusetts and then to Kentucky before returning to Florida. Bill was an unwavering pillar of guidance along the way, and even played a role in recruiting her to VHB, where she is currently driving change in communities through sustainable design solutions and people-centered spaces.
Bill passed away in 2020 not long before the construction administration phase began on one of the most significant landscape projects they worked on together: the Moffitt Cancer Center's new Moffitt McKinley Hospital in Tampa, Florida. As a cancer patient himself, who was undergoing treatment at Moffitt while working on this design, Bill provided a new perspective on this entire project, showcasing the power of healing gardens, and motivating Ivy to carry their vision through completion.
For patients, physicians, families, and staff, healing gardens offer respite from high levels of stress and emotional fatigue. They are powerful spaces with the ability to positively impact mood and enhance overall healing. As the project nears completion, Ivy reflects on how VHB helped incorporate therapeutic, healing gardens in the landscape at the transformational healthcare design project, as well as the role her colleague, Bill Bowers, played in its inception. This is Ivy's story.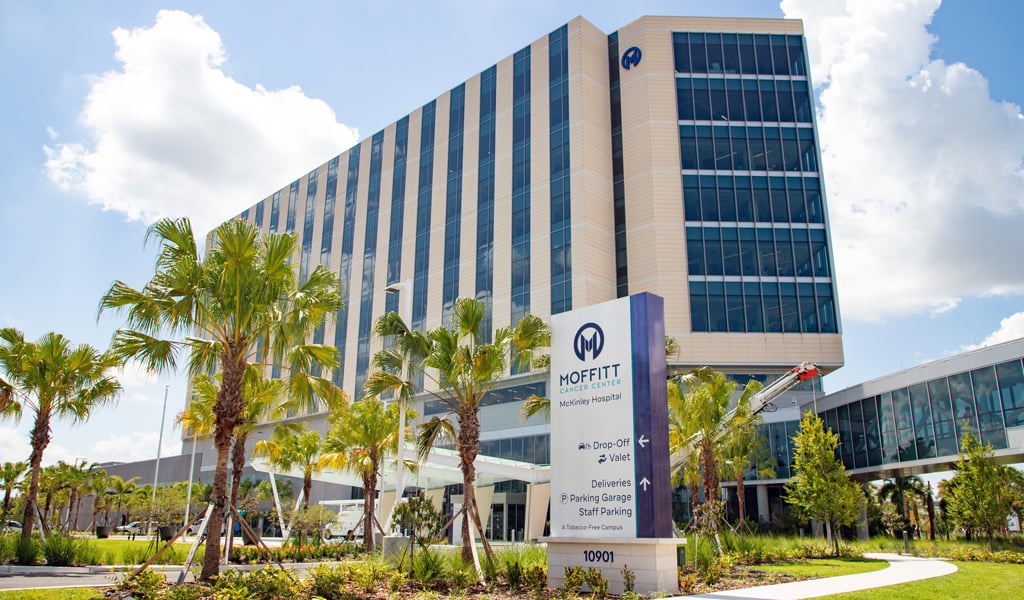 Moffitt Cancer Center is more than a local hospital for Tampa residents. It's nationally recognized for cancer research, and has treated residents from 130 countries, all U.S. states, and every county in Florida. It has a tremendous economic and social impact on our community.
When VHB was awarded the landscape architecture, permitting assistance, and construction administration project for the landscape and hardscape elements for their new Moffitt McKinley Hospital, we understood the impact that the project would have on a large patient population.
I joined VHB when the project was in the middle of the design process, at the behest of my former colleague and mentor Bill Bowers; he wanted me to be a part of something big.
The 10-story hospital sits on a 20-acre campus and includes 19 operating suites, 128 beds in a patient room tower, a pedestrian bridge connecting to the existing McKinley West campus and room for future expansion.

"
The original landscape design concept for Moffitt McKinley was something my VHB colleague Bill Bowers initiated, and our team took it to the home stretch after Bill's passing in 2020. It was significant for us.
"
I met Bill when I graduated from the University of Florida with a master's degree in landscape architecture in 2006. He was one of my first supervisors when I worked at another firm and helped me during those critical emerging professional years. Later in my career, he brought me to VHB.
Bill was the first project manager and senior landscape architect for Moffitt McKinley Hospital, and I think it is his initial ideas about the landscape that provided such a strong foundation. Bill knew there was a lot to consider and complex site issues, both inside and out. And at the same time, he was fighting his own battle with cancer.
The Landscape Design Evolution: From Idea to Impact
During the design process, when Bill and I presented the design package to Moffitt's leadership team and described design intent and choices, it was a memorable and impactful presentation for everyone in the room. Bill described how he received his cancer diagnosis after he started this project, and immediately experienced a higher level of understanding about what a cancer patient needs from a healthcare facility. It was an emotional meeting for us, Moffitt leadership, and our client and building architect, HDR.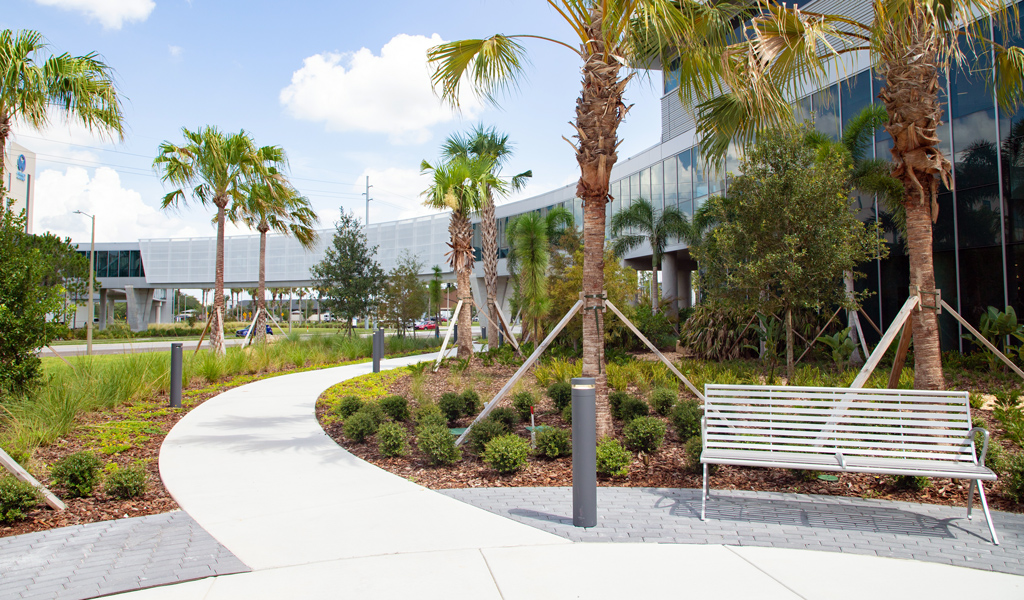 He was a great colleague, mentor, and friend and I was eager to shepherd his final, significant landscape design project through construction after his passing in June 2020.
Landscape design in healthcare brings opportunities to reduce stress and improve people's mental health during what can be their most anxiety-inducing situations. We must think about diverse factors such as noise, safety, light, and temperature as well as the aesthetics for their effects on visitors, staff, and patients' physical and psychological well-being. Design for a healing environment takes all these into consideration.
The landscape design at Moffitt McKinley Hospital includes enhancements at the two entries off McKinley Drive, a drop-off and valet autocourt, restorative gardens with native flora, and walking paths. We also introduced a signature dry creek bed feature that meanders through the landscape along the length of the building's western facade and sets a peaceful, restorative tone for the whole project.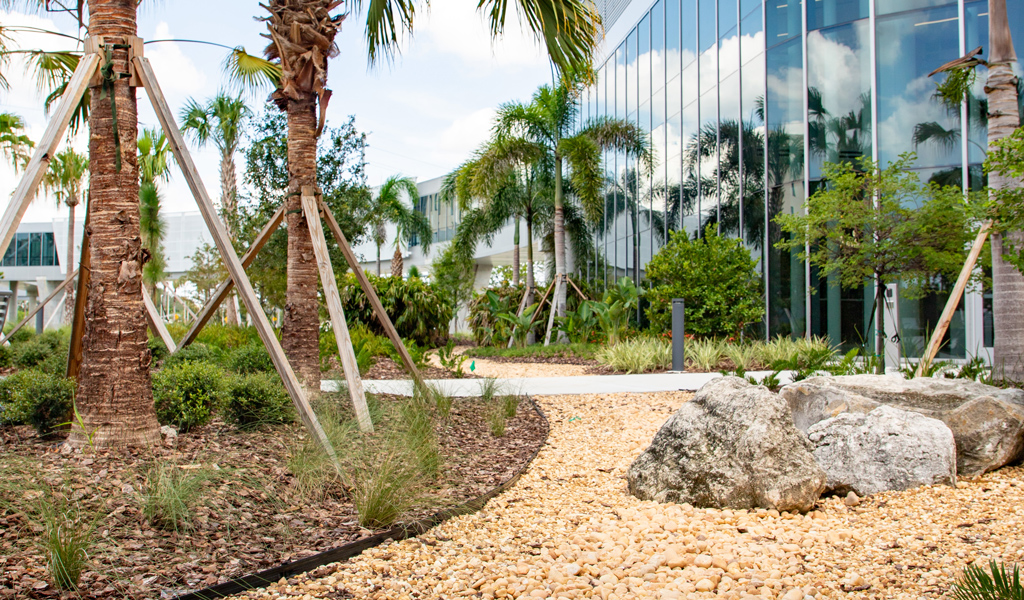 Healing through Sustainability: Redefining Therapeutic Landscapes
Sustainability is always top of mind for VHB as part of our holistic approach, and that includes reducing the site's impact on the landscape as well as elevating opportunities to conserve energy. We placed trees that will grow and shade the western base of the building to reduce energy load and keep the building cool—a resilient solution that lowers the amount of energy needed to keep building interiors comfortable.

The Sanctuary Garden is one of my favorite aspects and was not part of the initial design. When the sanctuary room design evolved to include views to the exterior, we created a lush, Zen-like garden outside using layered plant material for an enclosed, private garden space. It's a peaceful, quiet space for reflection enhanced with views to the outdoors that will evolve and grow.

As landscape architects, we also study what is going on inside the building to respond to the outdoors and provide the best experience for all users. There is a long corridor on the western side of the building that connects the south entry, the cafeteria, and the main lobby. Through digital renderings, we could visualize and study what a person inside the building looking out at would see from various vantage points.
What has been really gratifying is watching how the design is impacting people in a positive way even during construction. Our team has loved watching the design come to life during site visits.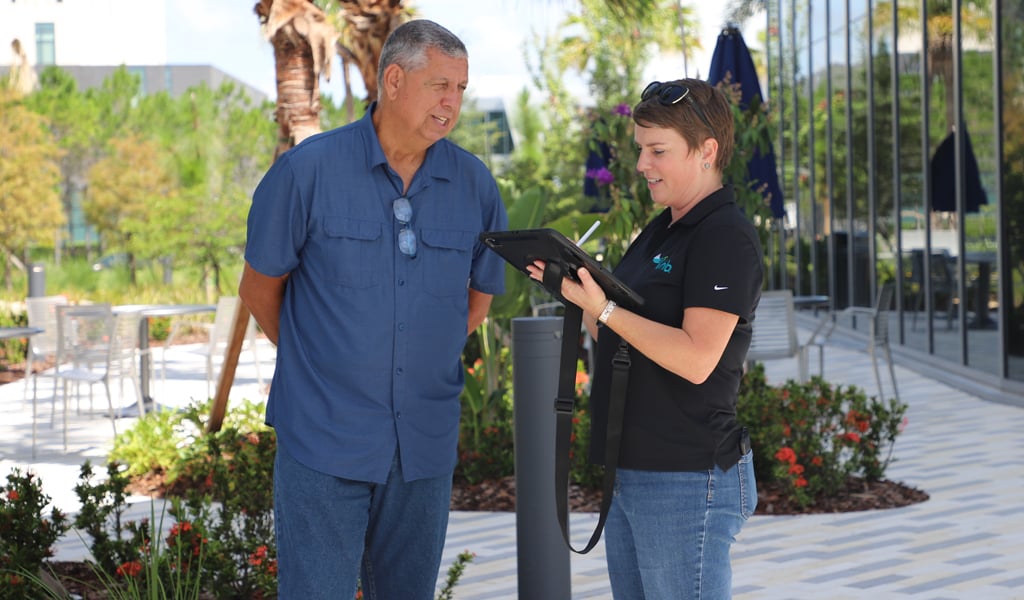 Throughout the project, I often heard Bill's voice in my head while walking the site, giving me helpful critiques of the installation. He would be so proud of the way the landscape at the hospital has come together, how the design not only promotes health and well-being, but provides holistic, sustainable solutions that are an important part of the patient experience. These same lessons can be extended when considering landscape for facilities beyond healthcare to higher education campus communities or senior living apartments to improve physical and emotional well-being.
Learn how VHB is extending the healing environment beyond the walls at healthcare facilities across the U.S.
Connect with Ivy directly or on LinkedIn for more information.