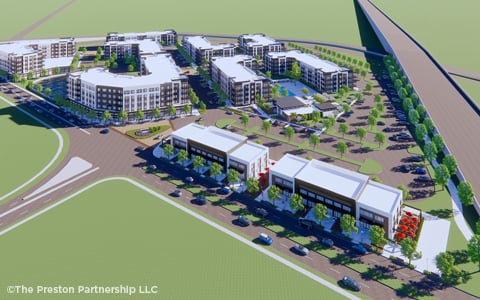 Lakeland, Florida's, Downtown West Corridor is fast becoming an epicenter for growth, guided by the recently developed Downtown West Action Plan. This five-year project encompasses multiple goals, including expanding housing choice, revitalizing infrastructure, and spurring economic growth.
VHB is partnering with a team including real-estate developer Carter & Associates, LLC (Carter USA); architectural firm The Preston Partnership, LLC; and arborist Contin LLC on the Lake Wire mixed-use urban development within the Downtown West Corridor. The project is the first new multifamily development of its type in downtown Lakeland, with emphasis on walkability and convenient access to downtown shops and restaurants.
Lake Wire is being developed in two phases and will eventually comprise Prospect Lake Wire (630 multifamily apartments spanning four residential building complexes), two retail buildings, 30,000 GSF of retail space, and hardscape/landscape amenities over a 25-acre site. Groundbreaking began in early 2023, and the first phase of development (300 residences, 15,000 GSF of retail space) is scheduled to open in 2024.
Funded as a Designated Opportunity Zone Investment, Lake Wire will be a pioneering development, with emphasis on walkability and convenient access to downtown shops and restaurants. Notably, Lake Wire is sited to connect downtown Lakeland with the newly opened 168-acre Bonnet Springs Park via a recreation trail connection to the park. Bonnet Springs, a significant investment for the City, has become a successful regional park attraction for downtown Lakeland, and Lake Wire will be the first project to bridge the park with downtown Lakeland's residential and retail developments.
Such an ambitious undertaking requires a full-scale multidisciplinary team approach, including architectural design, civil design, planning, entitlement permitting, negotiations with the City of Lakeland, roadway connection design, and complete landscape/hardscape design. Elevating placemaking is the team's foremost goal, and VHB created a distinctive, appealing aesthetic for the community while optimizing usability and safety.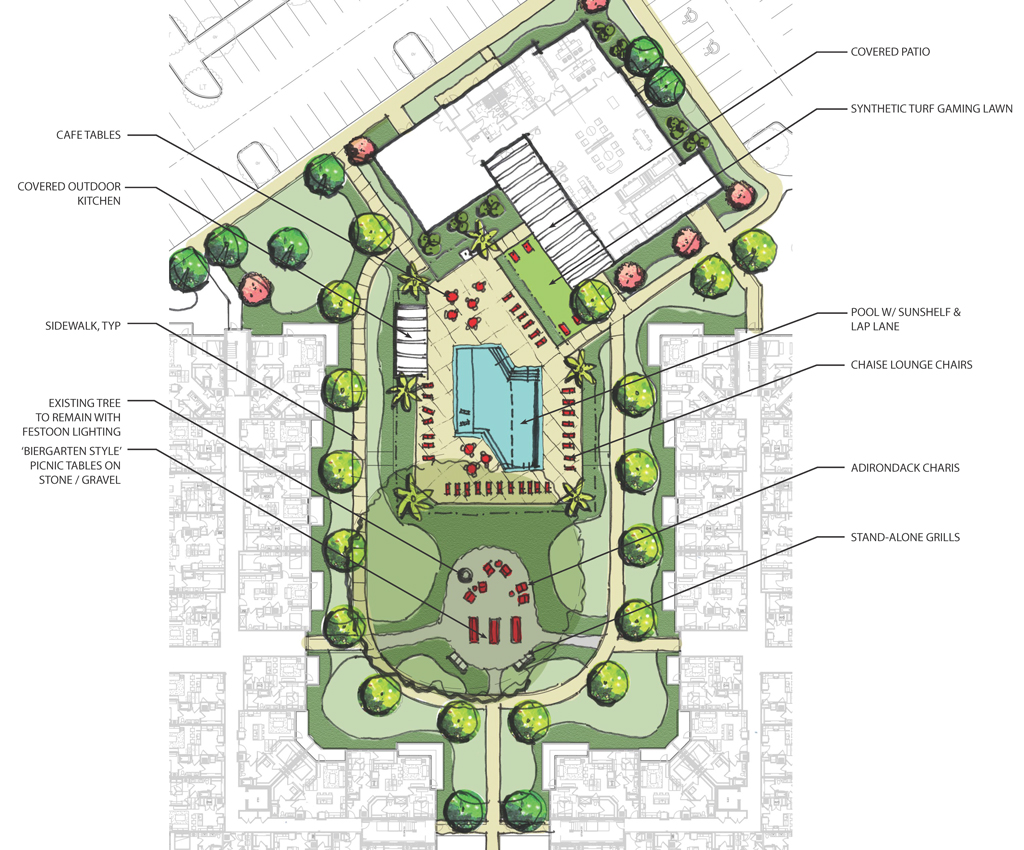 Lake Wire is located in the densely populated downtown city center, necessitating support from entities including the City of Lakeland, the Florida Department of Transportation (FDOT), and the City's Architectural Review Committee. VHB coordinated with the City and FDOT to create an interior street network including on-street parking and trees for greenspace and shading purposes, while also elevating active transportation for bicycles and pedestrians.
Civil engineers and architects collaborated on building, site, and roadway features, which required extensive stormwater permitting, as numerous existing onsite obstacles presented challenges, including reuse of an existing stormwater pond surrounded by a 20-foot-deep vertical wall.
Landscape and hardscape design was key to making certain that the new development blends luxury with affordability. As a showcase project for Lakeland, amenities and aesthetics were crucial design components. The pool courtyard and two residential buildings were located in proximity to a signature 54-inch-diameter oak tree—a centerpiece of the courtyard. Under the guidance of arborist Jason Sobota of Contin LLC, special measures were taken to preserve the majestic tree.
The pool courtyard design features a covered outdoor kitchen and turf gaming lawn. Additional neighborhood amenities include a dog park and hammock grove under palm trees.
VHB's Gulf Coast Director of Planning and Design, Neale Stralow, PLA, AICP, ENV SP, who served as Senior Planner on the project, commended the collaborative aspect of the project.
"It's been an honor to work with this team on such a dynamic residential project," said Neale. "It will transform the northern gateway into Downtown Lakeland into a vibrant place to live, work, and play."