Affordable housing is one of the most pressing challenges facing cities today. In Florida alone, housing prices rose 15 percent in 2022, and new residents continue flocking to the state for work and recreation. Population growth, land restraints, and inflation are among many factors driving the affordable housing crisis. In March, the state approved legislation that aims to alleviate the crisis through funding for affordable housing, incentives for development, and tax breaks via the Live Local Act.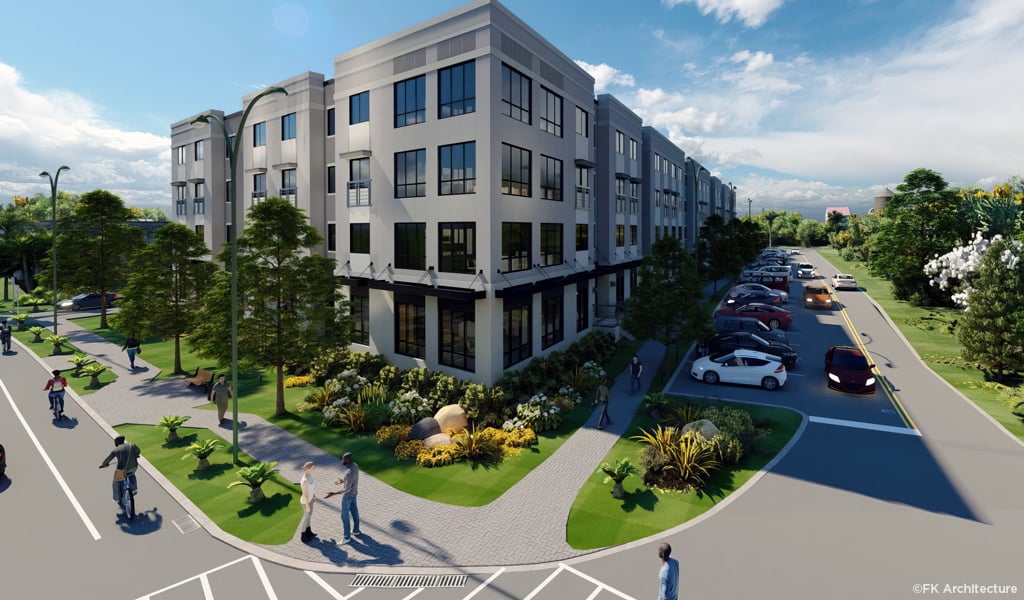 An integrated approach will be critical to creating opportunities for people of all incomes to live where they want to live and be secure. In the Tampa Bay region, VHB is working with Archway Properties on three affordable housing complexes for seniors and families with a shovel-ready approach that speeds up access to housing.
"Successful affordable housing projects in Florida are happening with a mix of public and private partners, including local governments, housing authorities, and private developers, who can share strengths and speed-up decision making," said Kevin Bynum, PE, Senior Civil Engineer.
VHB's water resources, real estate, transportation, and planning professionals collaborate in-house and work closely with owners and construction teams to find the right balance of sustainability and affordability. Engaging our integrated team as a partner early in the process can save money and time, as well as help clients secure funding through recommendations like sustainable water conservation practices that appeal to cities who want resilient buildings that conserve resources.
VHB is partnered with Archway Properties on several affordable housing projects, including:
Seminole Square Apartments is a three-story, four building, 96-unit housing complex under construction in Largo, Florida. In addition to providing civil engineering, transportation services and landscape design, VHB conducted stormwater analysis to help determine the property's yield. It will house residents who make between 30 to 80 percent of the area median income.
Clearwater Gardens is a four-story multi-family development in the coastal city's Downtown Community Redevelopment Area (CRA) near access to transit and employment with similar median income stipulations. The 81-unit sits on 2.3 acres with adjacent parking and incorporates an existing community garden. VHB is providing site and civil engineering, including designing an underground stormwater management system and rain garden with surface inlet and underground closed pipe stormwater collection and conveyance—a critical concern for coastal communities.
Casa Bel Mar Presbyterian Apartments (pictured) is a mixed-use residential project with 100 units located in a prime area of redevelopment in Tampa – VHB provided National Environmental Policy Act (NEPA) permitting and insight to understand historical abatements. VHB's landscape and irrigation design insight resulted in grading and elevation recommendations for a building which will reside in a flood zone.
VHB's close knowledge of environmental resources permit (ERP) application and relationships with area agencies like Southwest Florida Water Management District also helped move approvals forward.
By understanding the roadblocks to affordable housing in communities like Tampa Bay, VHB can work in tandem and prepare site plans that enhance submittals and speed up what can be a challenging or complicated approvals process. VHB real estate and land development insight often leads to clients securing additional services, such as transportation studies and landscape design, which contribute to a holistic, successful affordable housing project.
Multi-family clients across the U.S. appreciate that VHB is hands-on and offers more than a turn-key solution, including grant funding know-how. Some of the Tampa Bay projects are financed with federal housing loans and public mortgage relief from the County.
"The money is out there, but the grant funding process is highly competitive, and companies need help every step of the way learning how to navigate the process of entitlements and zoning, or getting federal, state, or local funding for housing," said John Eveland, PE, LEED AP, Gulf Coast Director of Land Development
VHB is embedded in other communities across the U.S. to help find solutions to affordable housing challenges, with projects like the Vital Brooklyn Initiative and Schoolhouse Apartments in Waterbury, Connecticut.