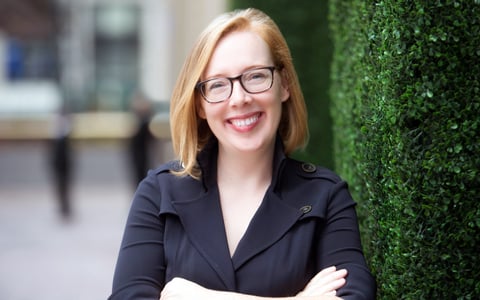 VHB is pleased to announce that Allison Ruddock has been named Environmental Services Director for VHB's New York City office. Allison's promotion is part of an ongoing strategy to advance VHB's environmental prominence in our Northeast region by pursuing and delivering complex public and private projects across all markets. In her new role, Allison will grow and develop client relationships, broaden the environmental practice in New York City, and strengthen an environmental team of big picture thinkers.
"Our clients expect bold, environmental resource leadership at VHB. That comes from understanding the importance of nurturing our urban and natural ecosystems, especially relative to navigating New York City's complex regulatory processes," said David Quart, Northeast Real Estate Market Leader. "Allison is known by leading developers, our City agency and attorney partners, and other clients as a leader in the field. Her experience managing these types of teams and projects throughout her career makes her the right choice to lead our Environmental Services in New York City."
Allison will be responsible for driving the development and strategic growth of environmental services in New York City. She will oversee VHB's team of environmental planners, air quality specialists, noise engineers, environmental engineers, and site investigation and remediation professionals, and the delivery of these services on complex projects. Allison's 23 years of experience includes leading environmental and planning studies, multi-jurisdictional permitting, and public engagement efforts for projects across a broad spectrum of typologies and scales. Allison has worked on some of the most transformative projects in New York City, including the resilient rezoning of Edgemere, Queens for the New York City Housing Preservation & Development (NYCHPD), the rezoning of Greater East Midtown, the Starrett-Lehigh Terminal Warehouse asset repositioning project, and Gotham's GO Broome mixed-use project that includes a new headquarters for the Chinese-American Planning Council.
Allison directs planning and feasibility studies and environmental reviews for public- and private-sector clients pursuant to City Environmental Quality Review (CEQR), State Environmental Quality Review Act (SEQRA), and National Environmental Policy Act requirements (NEPA). She collaborates with project applicants and stakeholders and manages both workflow and quality to achieve project objectives within budgets.
Allison holds a Bachelor of Arts in English from Haverford College and a Master of Urban Planning from New York University Wagner. She is also certified with the American Institute of Certified Planners (AICP).
"I'm excited to be part of the evolution of our Environmental Services practice at VHB as we actively diversify the work we do and the clients we partner with. My goal is to continue to deliver high-quality work while leading our teams working in all aspects of urban planning, design, and environmental review," said Allison. "It is important that VHB remains trusted advisors for our clients so that we can help them develop and deliver their projects, especially those that make our communities more sustainable and resilient."
For more information, reach out to Allison.