The Children's Hospital of The King's Daughters (CHKD) celebrated the opening of their new pediatric mental health hospital and outpatient center (Children's Pavilion) this Spring to address children's mental health needs. Located in Norfolk, Virginia, on the Eastern Virginia Medical Center (EVMC) campus, this 14-story facility currently provides outpatient services, general pediatrics, and sports medicine, and will expand to provide inpatient psychiatric care later this year. VHB teamed with Array Architects and PF&A Design to provide surveying, site planning, site/civil engineering, and landscape architecture.
The new Children's Pavilion prioritizes the needs of children, adolescents, and their families as mental health challenges continue to rise—intensified by the pandemic. The 358,340-square-foot mental health hospital helps to address the shortage of mental health services for preschool to high-school aged children within the region who are currently leaning on schools, families, and other areas of our medical system for treatment. Through patient- and family-centered design, the new Children's Pavilion provides a safe and welcoming environment for quality treatment and service.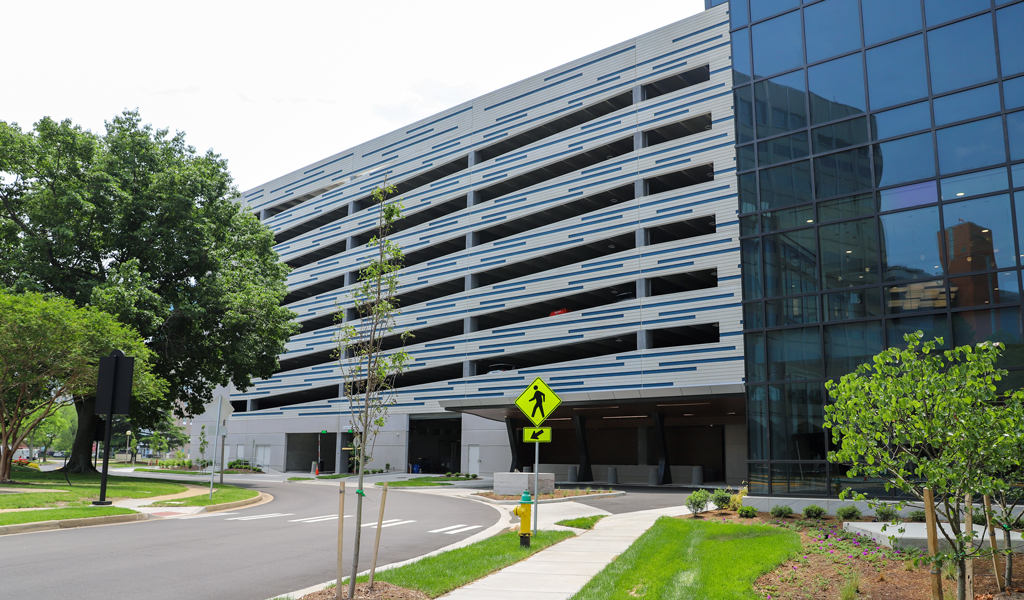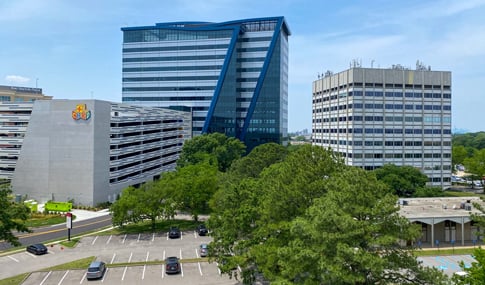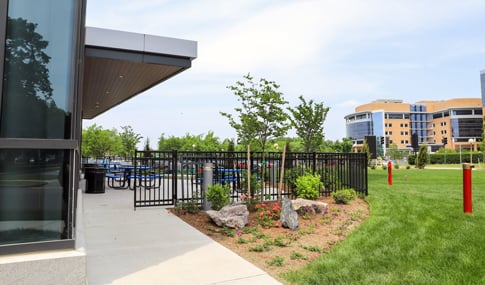 "In late 2021, the American Academy of Pediatrics, American Academy of Child and Adolescent Psychiatry and Children's Hospital Association declared a national emergency in children's mental health," said Myrina Gaglione, VHB's Project Manager for the project. "It's a challenge that has been building for years that CHKD is proactively helping to address in the Hampton Roads region. They've not only created a facility focused solely on quality treatment for children, but have also created an environment that is calm, safe, non-sterile, and light-filled—important qualities in the treatment process."
Unlike a traditional hospital setting, CHKD's new facility provides opportunities for creative expression through thoughtfully designed art and music rooms, a two-story indoor recreation center, exercise room, and rooftop outdoor recreation area. With more than 18 new child psychiatrists and 470 additional staff members, the hospital also encompasses an education and training center for research and development of programs and treatments. VHB's role in the project included design of the outdoor dining area, stormwater management, utilities, landscape architecture, and obtaining City of Norfolk site permits.
In addition to CHKD's Mental Health Hospital, VHB has also worked on EVMC's Waitzer Hall that was completed in 2021. This 11-story education and academic administration building provides classroom space for medical students and supports the school through education, research, and patient care. VHB's additional experience in Norfolk includes the new HeadWaters Resort & Casino; Gravity, the new luxury apartments to be constructed near the Waterside District; and the Ohio Creek Watershed project.
To learn more about VHB's involvement with healthcare facilities across the East Coast, visit the VHB Healthcare.