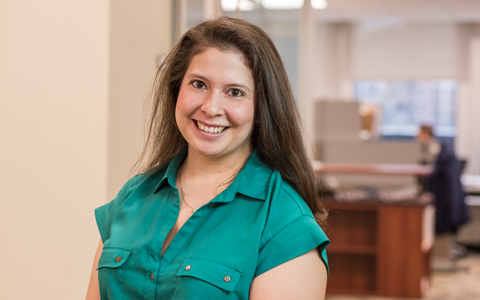 Elizabeth Jule has been named to the Professional Women in Construction's prestigious 20 Under 40 Outstanding Women in Construction list after strong recommendations by a coalition of VHB peers and senior leaders. The award recognizes 20 women in the AEC industry under the age of 40 who make impactful contributions to their teams, their firms, and the industry through exceptional work.
Since joining VHB, Elizabeth has become a key transportation leader, providing detailed traffic studies and analyses for high profile real estate and public infrastructure projects like the Greater East Midtown Rezoning EIS and the 425 Grand Concourse Affordable Housing project. Recently, Elizabeth was part of the team who completed the WMTATA Smithsonian Station Improvements project, where she conducted pedestrian simulation modeling and analyses that will be used to support anticipated design upgrades.
At VHB, Elizabeth's social nature is apparent, and she has become a guiding force for the New York office's Health and Safety practice. Throughout the COVID-19 pandemic, Elizabeth was responsible for providing and maintaining PPE for staff in the field. She also communicates safety initiatives and coordinates trainings such as OSHA 10 Hour and First Aid, CPR, and AED. Elizabeth also serves as a VHB College Ambassador, visiting her alma mater, New York University's Tandon School of Engineering, for recruiting events seeking future interns and entry-level staff. Her passion for working work with younger staff is driven by strong mentorship and career advice skills.
"This recognition from PWC is a year-making honor," Elizabeth said. "It's my passion to not only provide above-and-beyond services for VHB's clients, but to strengthen my team and, by extension, the communities we serve. Thank you, PWC."
Elizabeth will be recognized amongst the other 20 Under 40 honorees at PWC's annual holiday celebration on December 9th, 2021.
For more information, contact Elizabeth Jule.