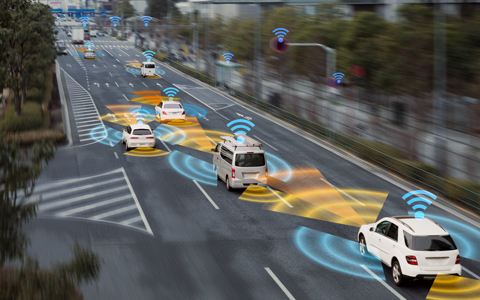 Many drivers utilize traffic apps to spot trouble on the roadway and find alternate routes—which aren't always efficient. A future-focused transportation project on a vital roadway in Florida is transforming traffic management by connecting vehicles with smart technology to significantly reduce traffic mishaps and ready alternate routes for traffic detours. The U.S. Department of Transportation (USDOT) awarded funding to the Florida Department of Transportation (FDOT) to advance the I-4 Florida Regional Advanced Mobility Elements (FRAME) project as part of the Florida Connected Vehicle Initiative. VHB is a subconsultant to Metric Engineering helping design, implement and advance new technologies to advance safety and mobility in FDOT's District 1—the busiest corridor between Orlando and Tampa.
I-4 FRAME deploys an advanced Integrated Corridor Management (ICM) system consisting of next-generation traffic incident management and smart vehicle-to-infrastructure technologies that elevate the role data plays in infrastructure resiliency and sustainability. The Intelligent Transportation Systems (ITS) employed mean more than just push notifications to a driver's mobile app. They leverage multiple vehicle-to-infrastructure and vehicle-to-vehicle technologies.
The project will allow travelers in the I-4 FRAME system to receive a variety of real-time messages through connected vehicle (CV) communication technologies, supplemental ITS or mobile devices related to traffic, weather, intersection signal timing, and alternate routes through data sharing between vehicles, CV-enabled roadside units (RSUs), and FDOT traffic management systems.
The Tampa to Orlando stretch includes the deployment of more than 450 RSUs along the interstate, other limited access corridors, and a number of parallel roadways to aid in traffic management during diversion events due to non-recurring incidents along the interstate. The entire 600-mile I-4 FRAME project is the largest deployment of connected vehicle roadside units in the country. It can significantly impact safety and mobility on a roadway that sees more than 150,700 vehicles traveling daily and averaged one full lane closure per 11 days in 2018.
"The CV and supplemental technologies deployed throughout the corridor enable motorists to receive real-time, in-vehicle traffic alerts along the project corridors, helping them reach their destinations safely and on-time," said Joseph Perri, Southeast Regional Transportation Technology/ITS Manager. "Data collected from the new technologies allows transportation agency traffic management operators to analyze traffic conditions in real-time, and adjust detours and arterial timing plans, while providing significant environmental and economic benefits."
I-4 FRAME is in direct response to the DOT's and Federal Highway Administration's call for future-focused connected vehicle pilot deployments that utilize data from drivers and mobile device technologies to improve traveler mobility and system productivity, while reducing environmental impacts and enhancing safety. I-4 FRAME will ready the RSUs for communication with several connected vehicle applications (CVAs) to address these imperatives, including:
Safety: Queue warning, curve speed warning, wrong way driving, emergency vehicle priority systems, pedestrian and cyclist safety, lane closures, intersection warning, collision avoidance, and road weather alerts
Mobility: Traffic information message broadcasts, transit signal priority, speed harmonization, advanced rail grade crossings, freight signal priority
Environmental: Decreased greenhouse gas emissions from traffic abatement
The entire project traverses four FDOT Districts (D1, D5, D7, and Florida's Turnpike Enterprise), Tampa Hillsborough Expressway Authority, and eight local agencies with operational and maintenance responsibilities within the project limits. The Concept of Operations for this major multijurisdictional ICM project serves as a model for the industry in collaboration and use of technology and data to improve mobility and safety.
Construction on the project will start Spring 2022 and will take approximately two years to complete. For more information about implementing smart transportation technologies in your municipality, contact Joseph Perri.