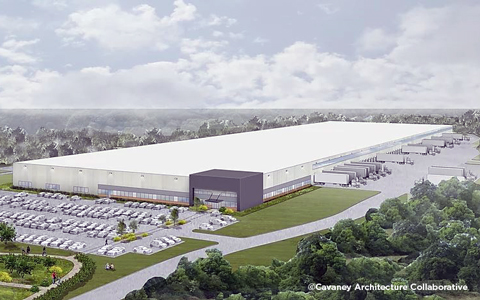 The former Lakeville State Hospital in Lakeville, MA, closed its doors in 1992 after more than 72 years in operation. Once self-sufficient and well equipped with staff housing and on-site farms for food production, the hospital occupied a sprawling campus that today remains a mostly vacant property.
Rhino Capital Advisors, a Boston based real estate developer, has been working to secure the green light to tear down the seven abandoned buildings on the complex and replace them with a 402,500-square-foot warehouse building for lease to future tenants. Rhino partnered with VHB in January 2020 to envision maximum redevelopment potential for the site as well as due diligence on the contamination, traffic, wetlands, and various zoning requirements. VHB continues to work with Rhino on the Lakeville project—providing an integrated services approach that includes permitting, survey, site and civil, site investigation and remediation (SI&R), traffic, and environmental.
The repurposing of the hospital is one of high priority for the Town and the Commonwealth of Massachusetts, as is outlined in the Town's Master Plan and the site's designation under Chapter 43D. The property is host to a deserted landfill that remains unlined and uncapped, dilapidated buildings that contain asbestos, and many other dangers that need to be addressed.
"The redevelopment of the former hospital represents a great opportunity to revitalize a property that has been abandoned and in disrepair for nearly thirty years into a Class A warehouse generating new tax revenue and jobs for the community," said Brittany Gesner, PE, New England Industrial Team Leader, VHB. "We appreciate being a part of what will be an exceptional transformation for the Town of Lakeville and the Commonwealth of Massachusetts."
The team submitted the project for local permitting and the Massachusetts Environmental Protection Agency (MEPA) review in the fall of 2020. Through the trusted partnership with Rhino, VHB lead the entitlements processes, meticulously addressing any Town, state agency, community, and abutter concerns. The project received local approval from the Planning Board on April 1, 2021 and completed MEPA review on June 1, 2021. Vegetation clearing and the early stages of abatement and demolition of the existing buildings on the property are now in progress.
"It feels good to take a rundown property like the Lakeville Hospital—that is deemed unsafe on many levels—and convert it in an environmentally conscious and sustainable way," said Tyler Murphy, Head of Construction and Development at Rhino Capital Advisors. "The process has been challenging, but we are confident that with its proximity to the highway, the redevelopment will offer beneficial improvement to the local community, with minimal disruption."
The building is expected to be substantially complete by December 2022, with full completion of the project slated for April 2023. The repositioning of the Lakeville Hospital grounds not only provides a healthier and safer environment for the community, the Town will experience a tax increase and local job creation.