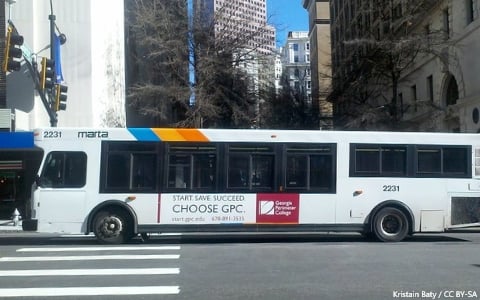 COVID-19 significantly impacted bus service and mass transit ridership across the country. In Atlanta, the City's principal public transportation operator, Metropolitan Atlanta Rapid Transit Authority (MARTA), was dealing with overcrowding on core routes, customer concerns about social distancing, and budget constraints. VHB's Atlanta transportation team was quickly engaged by MARTA to lead the development of an Essential Bus Service Plan that addressed the drastic drop in ridership while also accounting for the needs of a vulnerable, bus-dependent population.
Understanding the importance of keeping critical routes open, VHB helped MARTA make the difficult choice to eliminate most of its 110 bus routes, while boosting service to its busiest routes. The new plan addresses 40 critical routes and one new circulator service, including lifeline transportation to 17 hospitals, 22 urgent care facilities, 85 grocery stores, and 16 job centers/industrial hubs.
The intensive effort, led by Olen Daelhousen, Transportation Planner and Project Manager, resulted in a comprehensive plan in a quick turnaround that included significant Geographic Information Systems (GIS) overlays and service planning/scenario analyses. The plan was designed to make certain MARTA can provide safe and sustainable service over the next several months.
VHB's support to MARTA also included printing new bus stop signs enabling MARTA just-in-time signage in place at all closed bus stops, providing critical notification to customers who may have missed the changes through news outlets and social media. MARTA installed seat blocking placards in all buses to help enforce social distancing and established a customer hotline where customers can report overcrowded buses. Decals near the boarding door of all buses encourage riders not to board a bus that has no open seats and to wait for the next bus, which in most cases arrives within 10 minutes.
VHB's Transit & Rail leaders are collaborating on creative ideas to support clients like MARTA across the U.S. who were significantly affected by the virus.
"VHB is committed to improving mobility and enhancing our communities," said Grady Smith, Southeast Regional Transportation Planning Director at VHB. "It was an honor to support MARTA during this time of crisis, providing a plan that allows for safe and sustainable service for their customers over the next several weeks, or even months, during these uncertain times."
To learn more, read the Atlanta Journal-Constitution's recent article here.