Green City Partners, LLC, a partnership between Future Cities and Concord Eastridge, will transform a 204-acre underutilized parcel into a sustainable and resilient community, called GreenCity, in Henrico County, Virginia. This $2.3 billion investment will result in the creation of a dynamic mixed-use ecodistrict that will attract new businesses, create jobs, and generate millions in tax revenue for the community. VHB's integrated services team worked alongside the owners to prepare the master development plan and provide recommendations for future infrastructure. The Henrico County Board of Supervisors approved the rezoning of the site from office to urban mixed-use in October 2021, opening the door for economic revitalization.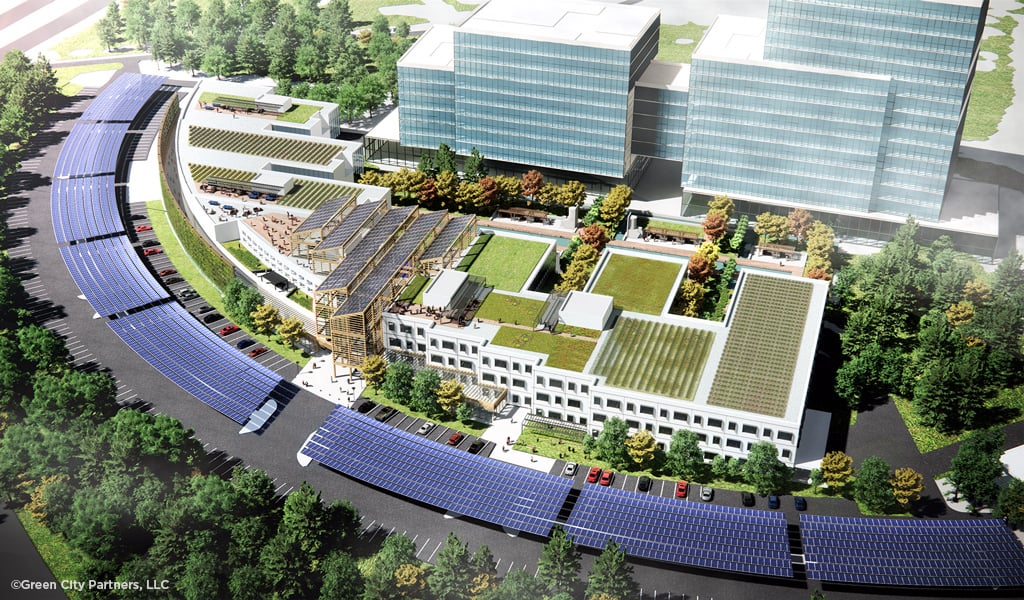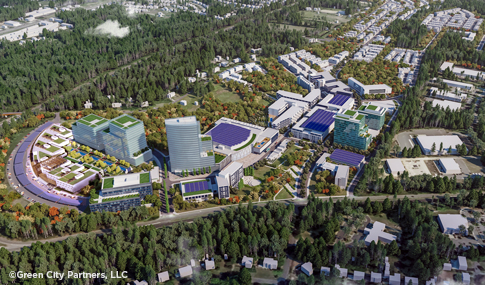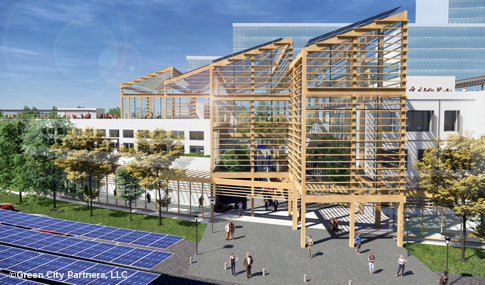 The vision for the property as an ecodistrict integrates sustainability, with social equity and resiliency at the forefront of its standards. The future of GreenCity will include mixed income housing, forested areas and parks, buildings designed to specifically interact with the environment, and a multi-modal transportation network designed for walkability and connectivity. A 17,000-seat arena with flexible seating configurations for large events or sports teams will anchor the development and be constructed using green best practices.
The site selected for GreenCity is an abandoned corporate campus, formerly the Best Products headquarters, that has been dormant for more than a decade. The first phase of the project is focused on renovating and repurposing the three-story headquarters by aiming to attract sustainable companies who are committed to climate change—creating a green campus that they can call home. VHB evaluated the site's infrastructure, utilities, transportation and traffic, and environmental constraints, and developed a framework for the new infrastructure, including roads and utilities to support the build out of the community. VHB leveraged local presence and knowledge of the development process to support the advancement of this new eco community that, when complete, will yield more than 8,000 jobs and $1.3 billion in overall economic activity by 2034.
"As a company committed to enhancing our communities through equitable, sustainable, and resilient solutions, we are proud to stand alongside Green City Partners, LLC as a partner on this project," said Diane Linderman, Managing Director of VHB's Richmond office. "The repurposing of the site's assets will increase value, while bringing the property back to life—an example of environmental readiness that will serve as a successful example for future projects."
In addition to GreenCity, VHB is actively working in Virginia on several revitalization projects that will repurpose underutilized assets. Projects include the 500 North 10th Street, University of Virginia Ivy Corridor, Norfolk Casino, and the Tidewater Gardens redevelopment that will include new mixed-income housing.
To learn more about how we partner with developers, corporations, investors, and economic development agencies, visit the Real Estate Market page on our website. To find out more about VHB's involvement in GreenCity, contact Diane Linderman.