The Federal Highway Administration Office of Safety and transportation industry professionals alike will be celebrating modern roundabouts during the week of September 19. As in previous years, the primary goal of National Roundabouts Week is to promote safety and sustainability. VHB's team has been studying and designing modern roundabouts for nearly 20 years for numerous state and local agencies, developers, as well as institutional and corporate campuses along the east coast.
SR 37 Roundabout in Colquitt County, Georgia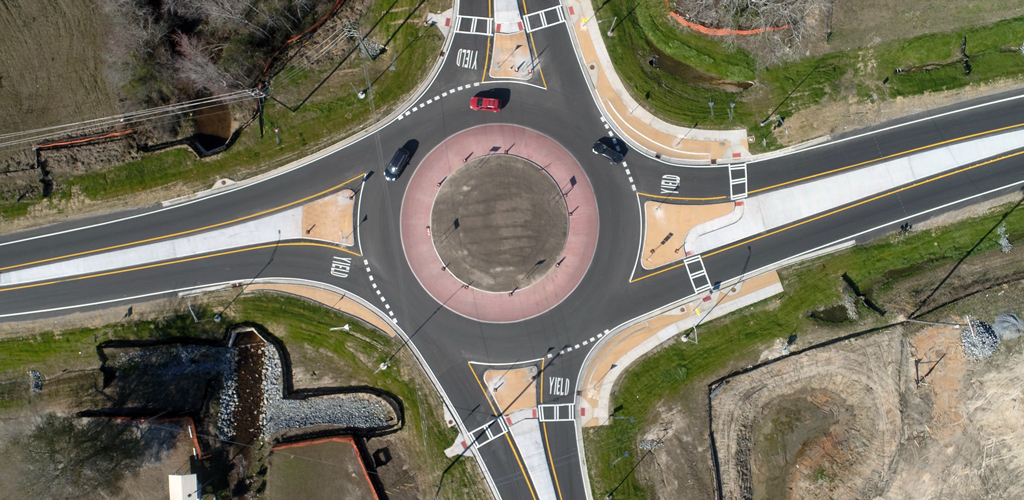 VHB worked with the Georgia Department of Transportation (GDOT) to reduce traffic incidents via a new roundabout on SR 37 in Coquitt County, Georgia. The rural state route intersection with a minor controlled stop had a history of crashes – a problem at traditional intersections where high speed rural roads converge. The roundabout elevated safety by eliminating left turn conflicts allowing motorists to approach the roundabout intersection at reduced speeds.
UConn Alumni Hillside Apartments Roundabout Design in Mansfield, Connecticut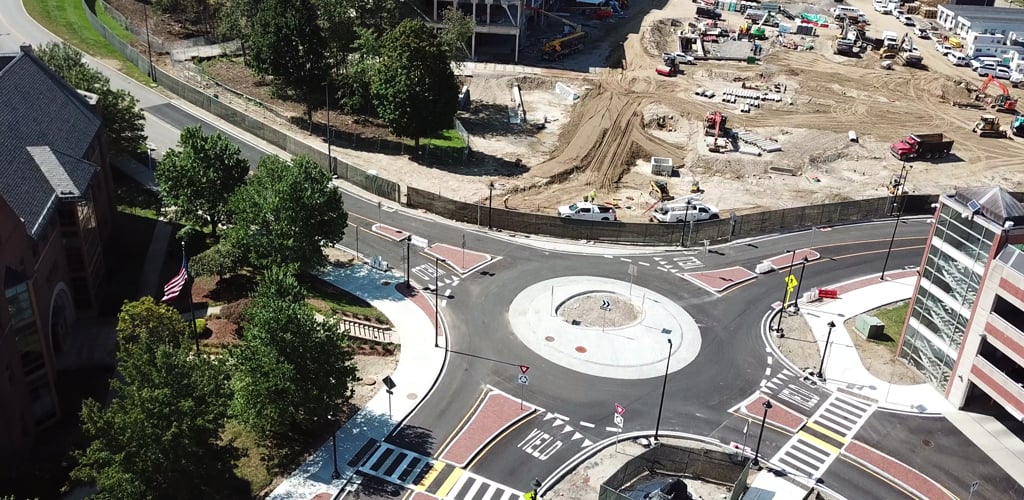 As part of the Northwest Science Quad project, VHB worked with Payette Architects and the University of Connecticut to reconstruct the existing Hillside Road and Alumni Drive intersection into a hybrid mini-roundabout intersection. This reconstruction addressed longstanding safety issues at the Science Quad intersection. VHB conducted over a dozen concept alternatives to address the existing all-way stop-controlled intersection issues, primarily with pedestrians conflicting with vehicular traffic flow. After an extensive review process with the project stakeholders, the hybrid mini-roundabout alternative was selected as the safest intersection control.
Franklin Square Modern Roundabout in Norwich, Connecticut
The City of Norwich's Public Works team had the vision to transform the Franklin Square signalized intersection into a modern roundabout to improve traffic safety, operations, and circulation. VHB delivered an innovative solution for a modern roundabout project at the intersection, which included reusing existing pavement, approaches, lighting, and the original flagpole. The award-winning Franklin Square Roundabout project maintained business access and intersection operations during construction, improved traffic flow, enhanced pedestrian safety, and maintained parking in the downtown business district.
Benton Boulevard Extension in Chatham County, Georgia
This future-focused project abuts several large neighborhoods in a fast-growing area. VHB designed the extension of an existing roadway, two roundabouts, a traffic signal, sidewalk, and a bridge over St. Augustine Creek. The two-lane roadway was built on a four-lane footprint to accommodate future growth in the area. VHB worked closely with the county to be mindful of the project's impact on commuters, residents, and the natural environment. The Benton Boulevard project's roundabouts were constructed near a busy residential area, and it created a new, safer route. Team members also lessened the impact on the environment by designing one of the roundabouts to preserve a mature Live Oak tree.
LaRoche Avenue at Jasmine Avenue in Chatham County, Georgia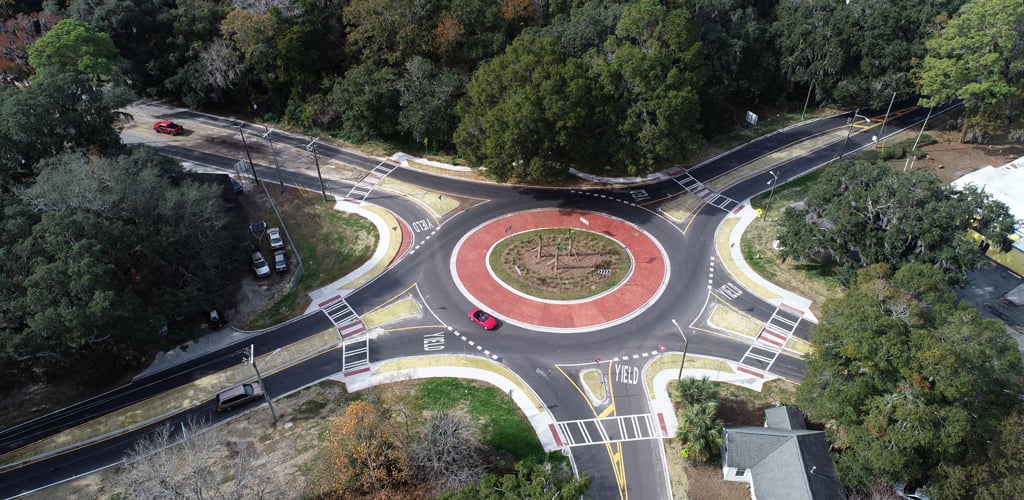 Working with Chatham County in Georgia, VHB helped implement a roundabout at an unusual five-leg intersection where motorists encountered many diverging, merging and crossing points. A roundabout solution eliminated confusion about the converging roadways at the intersection and eliminate skews/connections of the converging roadways at the intersections.
To learn more about roundabouts, contact Joe Balskus, VHB's Director of Transportation Systems. Joe is also Vice Chair of the Institute of Transportation Engineers Roundabout Standing Committee and will be participating in ITE's webinar, "Roundabout Palooza - Roundabout Design and Education, and Alaska to Connecticut Roundabout Projects." Registration is free for ITE members for the September 22 event.