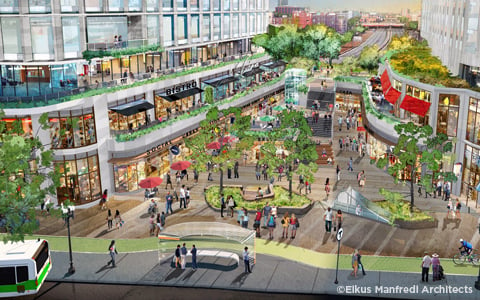 The much-anticipated Parcel 12 development, a transformative air rights development, will knit together Boston's Back Bay and Fenway neighborhoods, connect the South End and the City of Cambridge, and drastically improve the street-level experience along Massachusetts Avenue between Boylston and Newbury Streets. The $700 million complex features two high-rises on either side of a deck spanning over the Massachusetts Turnpike (I-90) and will feature world-class office space, a hotel, a new MBTA station entrance, and public open space, including a signature at-grade civic plaza with retail, restaurants, and an elevated public park.
Most recently, LEGO Group announced it is leasing 100,000+ square feet of space at the development, spread over five floors within the 1001 Boylston Street building, for its North American Headquarters noting the project's sustainability efforts and the building's proximity to a "diverse talent pool." LEGO has 700+ full-time employees at its current Connecticut location, all of whom are being offered jobs in Boston.
VHB is collaborating with a longtime client, Samuels & Associates (Samuels), to provide planning and engineering services in support of the project. VHB's services include civil/site, highway, bridge structural, and transportation engineering. VHB also provided technical support for the Boston Planning & Development Agency's (BPDA) Article 80 process, technical support for the Massachusetts Environmental Policy Act Office (MEPA) process, preliminary streetscape, roadway, cycle track, and pedestrian walkway design, preliminary design for groundwater recharge and phosphorous removal systems to reduce runoff and improve water quality, and coordination with the contractor and project team on construction phasing for maintaining Massachusetts Department of Transportation (MassDOT) and Massachusetts Bay Transportation Authority (MBTA) operations.
"I'm thrilled that LEGO has chosen to establish its new North American headquarters in Boston," Boston Mayor Michelle Wu said said in a statement via WCVB. "As we continue to make Boston the best city for families and a world-class hub for innovation, we look forward to supporting LEGO Group as they transition into this new Back Bay headquarters where they will inspire generations to come. I'm grateful to the Samuels team for their work to add to the vibrancy and vitality of the Back Bay neighborhood and their ongoing partnership with the city in creating a state-of-the-art home for LEGO that will be family-friendly, sustainable, and welcoming to all."
"Working on Boston's first air rights project in more than 40 years has been exciting to say the least," said Mark Junghans, Managing Director of the Massachusetts Land Development Team. "I was thrilled to hear Mayor Wu note Samuels' sustainability efforts. At VHB, we weave sustainability into every solution we deliver—and having the opportunity to provide integrated services on a noteworthy development that incorporates social, environmental, and economic issues, has been a game changer for us."
Parcel 12 is expected to be completed in 2025 and other notable occupants include CarGurus and citizenM hotel.
If you have questions about the Parcel 12 development, and to learn more about how VHB can help move your development project forward, please contact Mark Junghans.