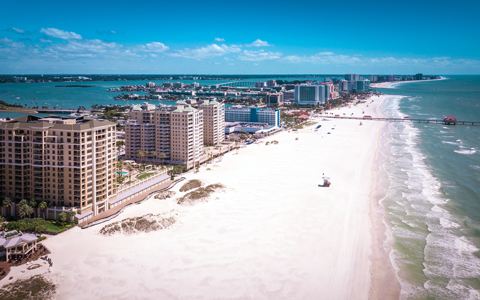 Climate changes such as sea level rise and extreme heat pose significant threats to coastal communities, and cities across Florida are turning to VHB for help. In Pinellas County, VHB is working closely with county leaders, staff, residents, and a diverse array of stakeholders on the development of their first Sustainability and Resiliency Action Plan (SRAP). This guiding document serves as a roadmap for future initiatives to support natural resources, provide resilient infrastructure, address social equity, pursue renewable energy options, improve community health, and implement smart growth.
"The objectives and strategies laid out in the SRAP will help the community to not only survive but thrive when faced with the complex and long-term challenges of either climate or human-made hazards that affect our environment," said Hank Hodde, Pinellas County's Sustainability & Resiliency Coordinator.
Beginning this month, the public is invited to provide input via the Pinellas County Sustainability & Resiliency Survey.
"Feedback provided will help to ensure that the public's brightest ideas and top concerns are reflected in the SRAP, which is anticipated to be adopted in Spring 2022," Hank explained.
According to models provided by the National Oceanic and Atmospheric Administration (NOAA), approximately 25 percent of Pinellas County lies in a Coastal High Hazard Area, meaning it is extremely vulnerable to hurricanes and prone to significant flooding and damage even in weaker storms. State and local jurisdictions limit development in Coastal High Hazard Areas and require communities like Pinellas to assess risk and plan for sea level rise and storms. VHB is helping Pinellas County understand the complex issues at the intersection of resiliency and sustainability. Strategies that Pinellas County puts in place to mitigate environmental problems and adapt to change take into account policy decisions and other related Pinellas County planning efforts, including their plans for economic growth, attainable housing, healthy communities, smart, safe transportation systems, green fleet, waste reduction, and more.
Through this project, VHB will conduct a baseline assessment of existing best practices, identify opportunities to operationalize sustainability and resiliency, and analyze data about the County's Greenhouse Gas Emissions (GHG) to inform future strategies.
"It's an exciting process to be a part of, especially with a future-focused organization like Pinellas County that is committed to being a thriving community for current and future generations," said Katie Shannon, VHB Community Planner. "Pinellas County has a dedicated Sustainability and Resiliency Program Coordinator and has established a Leadership Committee and Action Team made up of a passionate group of county staff who will help identify actionable solutions that will be tantamount to the Plan's success."
Continued public engagement through the development of the SRAP will not only help residents to be more informed and better prepared when faced with future challenges but will also assist with the identification of sustainability measures tailored to meet the needs of Pinellas County's communities.
"I think you will see a variety of smart-community initiatives as a result of the plan, especially solutions that leverage technology and data to bridge gaps and build visibility and additional capacity for the Sustainability and Resiliency program. Innovative solutions will include the development of a Return-on-Investment Guidance tool to guide the decision-making process and the development of an interactive, GIS-based Storymap to share the great work the County is doing with the public," said Katie.
VHB's has experience addressing complex sustainability and resiliency projects across the U.S., including in St. Petersburg, Florida, and Norfolk, Virginia. For more information about implementing smart community approaches to resiliency and sustainability, read VHB's new thought leadership piece: Building a Sustainable, Resilient, and Equitable Future.