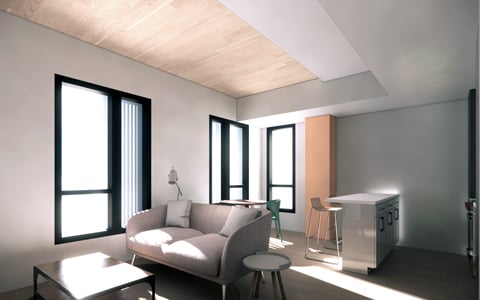 When developer Boston Real Estate Collaborative, LLC (BREC) needed assistance with preparing a grant application for a groundbreaking low-carbon building project, they knew where to turn. VHB has established a longstanding reputation as a go-to firm for integrated services supporting land development projects in Greater Boston. Led by Senior Planner Luke Mitchell, VHB's team helped BREC craft a grant application that landed the developer $200,000 in funding from the U.S. Forest Service.
BREC's 88 North Washington Street property will stand apart in Boston's cityscape as the first high-rise hotel in Massachusetts built with cross-laminated timber (CLT). Made from perpendicular layers of lumber bonded with an adhesive, this environmentally-friendly building material has exceptional structural stability and is a low-carbon alternative to concrete. Unlike steel and concrete, prefabricated CLT is assembled onsite, accelerating the construction process, reducing waste, and requiring less construction traffic and shipping.
When the Forest Service announced the 2022 Wood Innovations Grant Program to promote emerging wood products that support sustainable forest management, BREC tapped VHB's wealth of grant writing experience to pursue this prime funding opportunity. The challenge facing the VHB team was presenting a compelling argument for why CLT should be used in hotel construction, with it having not yet seen widespread adoption in the hospitality sector. Collaborating with BREC, they drafted a grant application that successfully demonstrated the considerable benefits the hotel construction industry and the City of Boston stood to gain from this much greener structural alternative.
BREC will use the grant funds to finish construction documentation, close out energy modeling activities, and cover preconstruction planning costs. Construction of the leading-edge 12-story, 31-suite hotel will begin this summer and is expected to last two years.
"This effort aligned well with our company-wide focus on sustainability," Luke said. "Showcasing the environmental and financial advantages of using CLT, we helped BREC formulate a strategy for becoming an effective advocate of this revolutionary building material—for this project and beyond. Strategic, well-developed grant writing can be an important component in a project's success."
To learn more about how VHB can help secure funds for your innovative projects, please visit the Grant Funding page on our website.