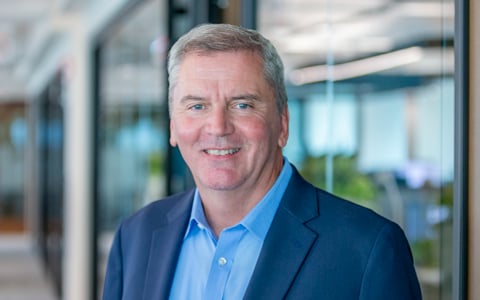 VHB welcomes Stephen (Steve) Devine as Strategic Advisor for Transit & Rail Services in New England. As we continue to strengthen our transportation market prominence, Steve will contribute invaluable perspective gained from a 35-year career at the Rhode Island Department of Transportation (RIDOT), where he most recently served as Administrator for the Office of Transit.
While at RIDOT, Steve worked and collaborated closely with diverse transportation agencies, including the Massachusetts Bay Transportation Authority (MBTA) and the Connecticut Department of Transportation (CTDOT). One of his former roles at RIDOT included serving as Commissioner on the Northeast Corridor Commission (NEC), during which time he developed vital and lasting Amtrak relationships.
One of Steve's major accomplishments includes navigating a complicated design-build process with the Pawtucket/Central Falls Transit Center. For this project, he facilitated the federally funded planning, design, design-build procurement, and construction start-up of a new commuter rail station, serviced by the MBTA and located on Amtrak property.
Steve also led major RIDOT initiatives, such as the Newport-Providence Ferry Service and the expansion of MBTA Commuter Rail to T. F. Green Airport Station. He has been successful in securing federal grants for new transit, rail, and multiuse path infrastructure and facilities across the state, giving him an established understanding of the funding streams available for transit projects.
"Steve will help strengthen our relationships with key transportation partners, and we're very excited to have him join VHB," said Natasha Velickovic, PE, New England Managing Director, Transit & Rail. "I've known and worked closely with Steve for 15 years and have seen firsthand how dedicated he is to the transportation industry. He is persistent and patient when navigating and solving difficult problems, and he will be an incredible addition to our growing Transit & Rail team."
Steve earned a bachelor's degree in Urban Studies with a concentration in City Planning from the University of Rhode Island.
Learn more about VHB's transportation experience and connect with Steve via email or LinkedIn to explore how he can enhance your transportation project.