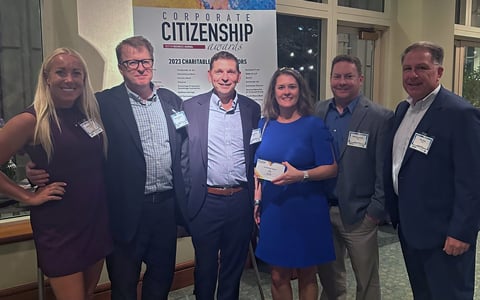 The Boston Business Journal honored VHB on Sept. 7 with a 2023 Corporate Citizenship Award as one of the top charitable contributors in Massachusetts—a distinction VHB is proud to have earned. In attendance to accept the award on behalf of VHB, were Tom Jackmin, Mark Junghans, Kathleen Keen, Brianne Belschner, Rob Nagi, and Matt Kealey.
Since VHB's founding more than 40 years ago, the company and its employees have raised more than $4 million for local charitable organizations, which are selected by VHB offices across the footprint. This year, employees once again stepped up to support those in need through the company's employee-led charitable giving program, VHB Cares. Through this philanthropic program, fundraising and team-building events take place throughout the year, including the VHB Jimmy Fund Golf Tournament. The most recent event raised more than $60,000 for Boston's world-renowned Dana-Farber Cancer Institute, which included a dollar-for-dollar match for donations by VHBers, bringing VHB's cumulative donations to the Jimmy Fund to more than $1.5 million in the past 26 years.
"We support a variety of organizations that have a direct impact on Massachusetts—and beyond, and I'm continually inspired by VHBers' generosity," said President and CEO Mike Carragher. "As a firm founded on stewardship and a belief in giving back to our communities, supporting our neighbors and contributing to organizations who do the same is integral to VHB's culture and core values."
VBay, the company's largest charitable event, now in its 25th year, includes a mix of online bidding, Spirit Week, daily raffle winners, and celebrations across our footprint. VHBers enjoy a week of fundraising annually, and this year raised the most in its history―more than $84,000.
VHB is a generational company founded on the core value of stewardship. Learn more about how we're dedicated to delivering future-focused solutions for our clients and how we're positively impacting our communities on our website.