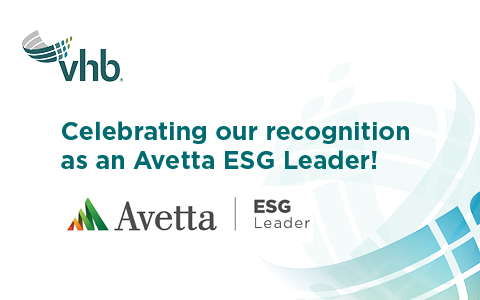 VHB's New York offices have been named one of Avetta's 2023 Supplier Award winners, a testament to our commitment to integrating Environmental, Social, and Governance (ESG) principles into all our projects.
Avetta, a leading Software as a Service (SAAS) company specializing in Supply Chain Management and Risk Mitigation Solutions, values a safer and more sustainable work environment. We are delighted to be acknowledged by a company that aligns with our unwavering commitment to these crucial values.
Andrew White, Corporate Sustainability Director, shared, "I am thrilled that VHB was selected as an ESG Leader! This recognition is a great acknowledgement of the work we have done to establish an ESG framework at VHB, and our New York offices should be especially proud of this achievement!"
Thank you to all VHB team members who work every day to achieve the commitments in our ESG Statement. We are excited to continue our journey as a responsible, equitable, and environmentally conscious firm and look forward to furthering collaboration with Avetta and other like-minded organizations.
*VHB Engineering, Surveying, Landscape Architecture and Geology, P.C. operates as an affiliate of VHB and has locations in New York.