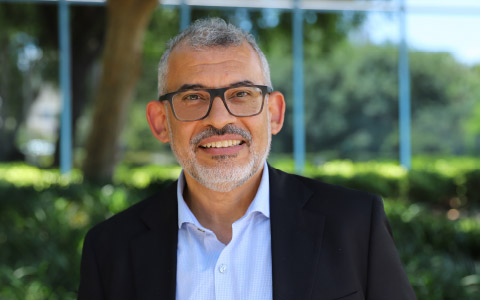 VHB is pleased to welcome Amr El-Agroudy, PhD, PE, as Senior Water Resources Manager in Orlando. Amr brings critical insight into water resources practices that will help public and private clients address climate issues while reimagining our communities for the better.
Amr has more than 30 years of international and local experience enhancing infrastructure and addressing issues that affect waterways throughout the United States, the Caribbean, Canada, England, and the Middle East. He most recently led a wide array of projects in Abu Dhabi, United Arab Emirates (UAE), focused on enhancing infrastructure and municipal assets by addressing rising groundwater, smart cities applications in stormwater design, regional sustainable stormwater solutions, flood analyses, and stormwater masterplans.
Amr was instrumental in shaping Orange County, Florida's Nutrient Loading and Reduction Study for the Upper Shingle Creek and Western Boggy Creek Drainage Basins. The study estimated runoff nutrient loading from land use, conceptual design of nutrient reduction best management practices (BMP), and implementation of water quality improvement and total maximum daily load (TDL) reductions to reduce pollutants. He collaborates with clients to help communities meet state and federal regulatory processes and become more resilient, including Osceola County, Florida Department of Transportation (FDOT) District 5, Florida's Turnpike Enterprise, St. Johns River Water Management District (SJRWMD), and the US Army Corps of Engineers.
Amr has helped the aviation industry establish storm water pollution prevention plans (SWPPP), drainage system assessments, and master plans for aviation industry partners in Puerto Rico, the Orlando Executive Airport, and Panama City - Bay County International Airport. Amr has also served as a faculty member at Concordia University in Montreal, Canada, and the Higher Colleges of Technology in Abu Dhabi, UAE, where he taught courses in Hydrology and Hydraulics, Project Management and Engineering Economics.
"Amr brings decades of leadership and technical acumen in water resources to our transportation, real estate and local government clients," said Shannon Ruby Julien, VHB Florida Energy Market Lead. "His knowledge significantly expands how we help clients address sea-level rise, smart community planning, floodplain analysis, nutrient loading and reduction, and regional stormwater solutions."
Amr is a registered Professional Engineer in Florida and received his Bachelor of Science in Civil Engineering from Cairo University in Egypt, his Master of Science in Civil Engineering (Water Resources) from the University South Hampton in England, and his PhD in Civil Engineering (Environmental Engineering) from Concordia University in Canada.