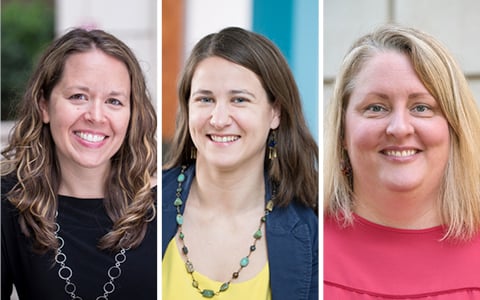 Jenny Jenkins, PE, Marketing Lead; Erin Murphy, Environmental Systems Manager; and Regan Hammond, AICP, Transportation Systems Director; were recently recognized by Engineering Georgia as part of the "Top 100 Influential Women" in Georgia engineering. These women are making a positive impact on the design, growth, and success of communities, businesses, and projects across the state.
Engineering Georgia is a publication of American Council of Engineering Companies (ACEC) Georgia. The honorees were nominated by their peers in the industry. The issue notes the collaborative process in the AEC industry and writes that "this year's group of extraordinary women exemplifies that collaborative process with their decades of experience and their dedication to creating more user-friendly, environmentally conscience, economical, and sustainable design both today and in the future."
The VHB honorees are making an impact leading projects across the state, including transportation studies that expand mobility access to underserved communities, archaeological surveys that uncover important information about our past, and environmental assessments that repurpose land for solar farming.
"I could not be prouder to have Regan, Jenny, and Erin on our team. Their technical experience and commitment to improving mobility, enhancing communities, and balancing development and infrastructure needs with environmental stewardship reflect VHB's philosophy and culture," said Fabricio Ponce, VHB Atlanta Managing Director. "They inspire me just as I know they inspire women in our industry throughout the entire state."