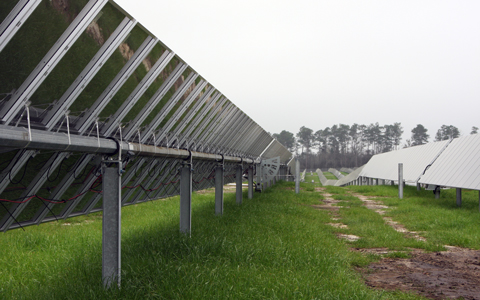 More communities across the U.S.—including rural areas—are starting to receive power from renewable energy sources. VHB recently helped develop a new utility-scale solar farm in Wing, Alabama, that will power area homes and businesses with clean energy, help achieve carbon reduction goals, and contribute to a more resilient electricity grid.
Origis Energy, a leading developer of solar and energy storage solutions, selected VHB to provide site assessments and regulatory guidance on a 967-acre solar site in Wing—an unincorporated area of Covington County, Alabama, in the far southern portion of the state near the Florida state line. VHB provided a full suite of environmental services for the 80-megawatt site, including a critical issues analysis, site investigation, wetland and protected species surveys, cultural resource surveys, and Section 404 permitting.

"VHB stays involved with solar projects from start to finish, including during the design and construction process, to rapidly address issues that could arise and impede progress," said Todd Hill, PP, AICP, Atlanta Special Projects Director. "We help owners like Origis stay in compliance with federal and state regulations, including working with U.S. Army Corps of Engineers for Section 404 wetlands permits, if needed."
VHB's interdisciplinary approach starts with a preliminary critical analysis to identify issues related to environmentally sensitive areas and permitting that a client may encounter at a proposed solar site. This analysis is completed using species databases, historical documentation, aerial maps, zoning maps, and other online environmental data sources. Southeast solar sites are frequently developed on agricultural lands including timber tracts and pasture areas.
At the Wing solar site, VHB archaeologists and wildlife ecologists also conducted site visits for in-depth technical analysis via archaeological digs, identification of potential hazardous contamination, and wildlife surveys to document protected species and determine the feasibility of obtaining required environmental permits.
"Highly knowledgeable environmental and permitting consultants such as VHB are integral to a project's success," said Nathan Rogers, Director of Project Development with Origis. "We thank the VHB team for their guidance in helping us navigate the state and regulatory processes."
Renewable energy sources like wind, hydro, and solar power are naturally replenishing sources that reduce impacts on the environment and help to combat climate change. Many states and municipalities are developing Climate Action Plans and target climate goals.
"We are seeing a big uptick in solar farm development across the Southeast, in part because of the increased financing that is becoming available to developers," said Todd.
Connect with Todd to learn how VHB Energy professionals help clients support growth of renewables and reach a net zero future.