Renewable energy is the catalyst driving the energy evolution in response to climate issues. In a world where fossil fuels have long dominated the energy landscape, the transition to clean, sustainable sources has become a paramount global imperative. Unlike conventional fuels, renewables like solar power emit minimal greenhouse gases and offer long-term energy solutions, reducing dependence on finite resources.
While federal agencies set energy efficiency standards, states also play a crucial role in policymaking. Connecticut stands out for its proactive promotion of renewable energy sources, relying on VHB's knowledge and innovation for more than five years to advance solar power in the state.
Steve Kochis, a civil engineer on VHB's Land Development team, brings his passion for a greener world and experience in solar farm development. Both have been instrumental in permitting nearly 300 megawatts (MW) of solar energy across Connecticut. His role at VHB has seen him drive significant changes in policy and regulation, earning the confidence of state regulators and establishing him as a trusted advisor. This is Steve's story.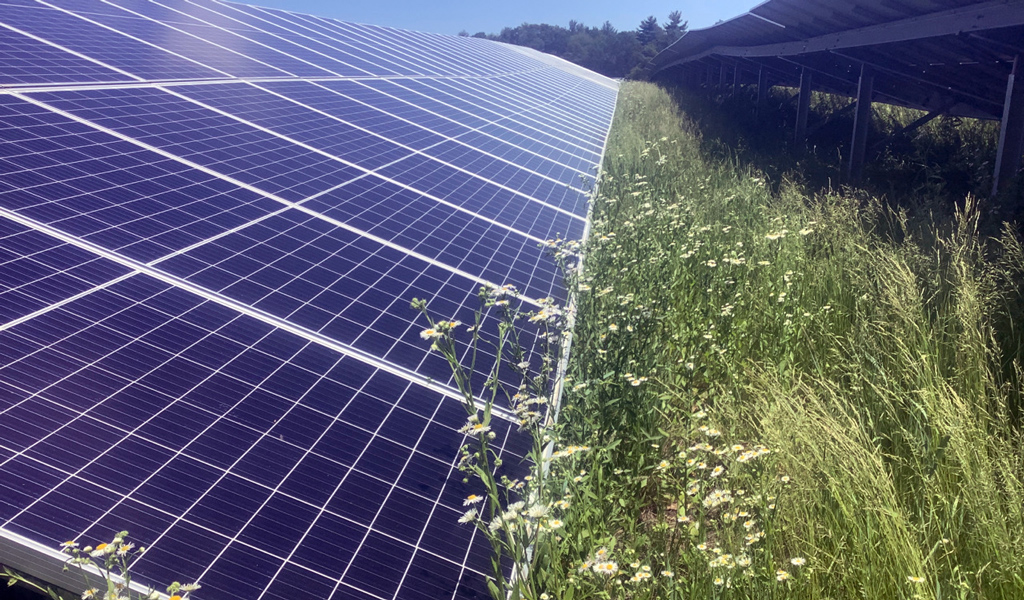 Six years ago, with many states developing sustainability targets and plans, Connecticut found itself at a crossroads in its renewable energy journey. Despite substantial efforts, the state was trailing behind its sustainability goals. Many wondered if the transition to sustainable energy could be achieved.
Half a decade ago, VHB embarked on an effort to reshape the state's energy trajectory and redefine the solar energy narrative in Connecticut. At that time, I had spent more than a decade in engineering consulting, working on diverse projects from schools to transportation systems. Little did I know that this leap into solar would reshape my career. It began with a single project but would soon snowball into a defining part of my professional identity, earning me the moniker "Solar Steve."
That very first project turned out to be one for the history books—Tobacco Valley Solar Farm—becoming the largest solar installation in Connecticut. Personally, it was a turning point and an incredible start to my solar journey. The project wasn't just about the numbers, although they were impressive: more than 170,000 solar panels providing enough energy to power 5,000 homes. This project demonstrated the potential of solar energy in Connecticut and showcased VHB's ability to partner with clients to successfully navigate the process.
Established Relationships & Innovation Drive Project Success: The Gravel Pit Solar Expansion
Fast-forward five years, and VHB has nearly 300 MW of solar energy projects permitted across Connecticut. Currently, the Gravel Pit Solar (GPS) farm is midway through construction in East Windsor. Collaborating closely with our client, we've set out to transform nearly 485 acres of former gravel pits and farmland into a 120 MW solar farm. Capable of powering more than 23,000 homes with clean energy, this project is slated to become the largest active solar farm in all New England once operational!
So, what exactly does my team at VHB do on a solar project like this? The simple answer? A lot.
The GPS development is a massive project filled with challenges, innovations, and a lot of hard work.
A foundational element of our success is VHB's established and strong relationships with state regulators, like the Connecticut Siting Council (CSC) and the Connecticut Department of Energy and Environmental Protection (CTDEEP). As with most of our projects, the GPS development started with helping our client navigate the permitting process. Our solid relationships with state regulators really came in handy when we secured both site and stormwater approvals for the project back in 2021—helping to keep the project moving forward.
From there, our role grew to encompass everything, from feasibility studies to cultural resource assessments, due diligence studies, land surveys, and noise studies—an integrated approach.


Currently halfway through construction, we've tackled a significant amount of earthwork and grading, and we even found ourselves crossing a DOT railroad and brook corridors with conduits. To make things even more interesting, we had to bore under those corridors using directional drills—talk about precision work!
The site's soil hasn't always been on our side, as we needed to come up with solutions to deal with highly erodible terrace escarpment soils native to the area. Adding a historical touch to the mix, we stumbled upon around 30 barns on the property that required cultural assessment—some were preserved while others were cleared to be removed to make the project feasible.

Our technology-enabled approach involved using specialized drones with LiDAR technology, which proved to be a game-changer. These drones helped us map more than 800 acres of land efficiently. This not only saved us costs and reduced groundwork but also provided crucial topographic data and insights into the site's features, like powerlines and actively changing topography.
Sustainability is always a priority for VHB and an integral part of our approach. We've been working hard to come up with innovative engineering techniques for stormwater and erosion control to address the existing site conditions.
Enhancing Communities While Protecting Natural Resources
One of the major challenges associated with solar projects is the misconception that solar farms might harm the environment or disrupt local life. Understanding these concerns has been a driving force for me. Over the years, I've actively engaged in state policy development, working closely with folks at the CTDEEP and Conservation Districts. Together, we've charted a course for the state's policy and regulation development.
When it comes to selecting sites for solar farms, it's far from a random process. Through meticulous site selection, every detail is carefully weighed—from the proximity to substations to land availability and, importantly, the willingness of landowners to sell or lease their land.
A well-planned solar farm should have minimal environmental impact. I believe one of the most critical aspects of our job is treating our land with as much care as possible, conducting thorough environmental assessments, and taking any steps necessary to mitigate potential harm. I'm always investigating ways to make our projects as green as possible, and in some cases, our solar farms creatively provide habitats for wildlife.
Over the years, we've also implemented a host of innovative solutions to address environmental impact concerns. We've leveraged eco-friendly alternatives such as using sheep for grazing instead of traditional lawn mowing and introducing pollinator-friendly vegetation. And for added wildlife protection, our team monitors habitats and develops conservation plans as necessary.

While there are plenty of challenges we can anticipate, I've found there are always unique reactions to each project, too. That's why VHB leads significant community engagement efforts throughout the process. By participating in local municipal consultations, we help towns navigate potential community concerns while confirming residents understand how solar farms can be good neighbors.
Pioneering a Renewable Tomorrow—What's Next?
After years of adapting to evolving policies and regulations, we're currently in the middle of the solar revolution. Together with our client partners, VHB is successfully permitting and overseeing the construction of solar farms, and the future looks bright.
As solar technology continues to advance, we're on the cusp of a big shift toward battery storage solutions. Solar alone can be limited at night or during overcast days when the sun is not shining. That's where battery systems can help, storing excess electricity generated by solar panels to act as backup power when needed. This effectively eliminates one of the major concerns of solar energy and opens new possibilities.
VHB is ahead of the curve, submitting the first battery storage application in the state and following up with several others since. With each project, we learn more about the positive impacts, and I can't wait to help more clients build their storage portfolios. It's fulfilling to see how these advancements can revolutionize how we harness and utilize solar energy.
I'm also excited about the potential for solar energy to find new homes in unique and underutilized landscapes, including exploring solar installations in brownfields, landfills, and even old drive-in parking lots. Our continuous search for creative and intelligent solutions is incredibly rewarding, redefining where solar can thrive.
For me, working on renewable energy projects is more than just a job. It provides a sense of fulfillment, knowing VHB is making a positive impact for future generations.
While still one of the newer land development initiatives in the state, solar farms are extremely promising and are here to stay as the state continues to promote aggressive renewable energy goals for the foreseeable future. My hope is for more aspiring land development consultants—like I once was—to branch out from traditional land development and discover the positive impacts—social, environmental, and economic—of solar farms. Let's continue working together to build a renewable future for Connecticut and beyond.
Learn more about VHB's renewable energy solutions today. Or contact Steve Kochis for more information.