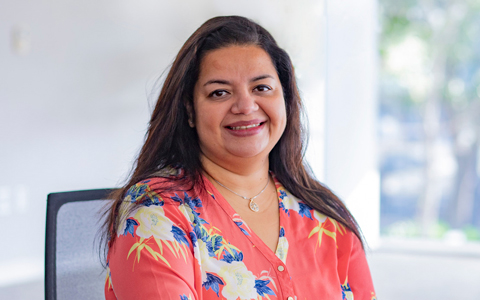 As the U.S. population grows, our roadways grow with it, with commensurate increases in scale and complexity. Overseeing the pace of transportation system growth, and the innovations being developed to manage this growth, presents new and continually evolving challenges. These challenges are being met by Arpita Guha, PE, PTOE, RSP1, a Transportation Systems Director at VHB Tampa with two decades of experience helping communities respond to transportation needs spurred by regional expansion and new technologies. We sat down with Arpita to learn more about Florida's Gulf Coast transportation evolution.
VHB: You've been in the traffic engineering and transportation planning fields for your entire career. What initially prompted you in this direction?
Arpita: I've always been interested in civil engineering, as it is considered the "mother of all engineering" due to its versatility. Traffic engineering and transportation planning are exciting to me because they combine so many factors essential to society: enhanced mobility, commuter safety, economic growth, and sustainability. Reliable infrastructure is critical for economic growth and development of any region.
VHB: What are some significant ways in which traffic engineering and transportation planning have evolved during your career?
Arpita: Over the past 20 years, the U.S. population has grown from about 260 million to approximately 335 million, so nearly a quarter more people are taking up space. That's a lot of new cars and a lot of new roads, requiring upward scalability in size, coverage, and complexity. What this growth also does is give traffic engineers a wide range of best practices and lessons learned, which in turn lead to increased cost-effectiveness and advances in the field. Obviously, with more people on the road, the sheer scale of some projects increases as well.
When I started my career in transportation engineering, conventional improvements such as road widening, and the addition of turn lanes were the standard. While those conventional improvements are here to stay, recently we are also seeing increased consideration and implementation of innovative solutions such as diverging diamond interchanges (DDIs), restricted crossing U-turns (RCUTs)/superstreets, and displaced left-turn (DLT) configurations. All of these solutions have evolved the field of transportation planning and engineering.

VHB: You joined VHB in 2022. What elements of your job do you find most interesting?
Arpita: I like VHB's culture of diversity, equity, and inclusion and the way staff, team, and offices interact. There's a smooth coordination chain across the company based on mutual respect.
VHB is managing multiple, challenging projects with the Florida Department of Transportation (FDOT), as well as state and local governments. All of these initiatives require collaboration across offices. VHB has the personnel, organization, and skill sets across offices to keep up with that – the OneVHB culture. We are helping communities like Hillsborough County and its Lithia Pinecrest Road improvement project via Project Development & Environment Services (PD&E) studies that elevate stakeholder input to help relieve congestion or integrate multimodal transportation for bicycles, pedestrians, and scooters into active transportation networks that prioritize safety.
I also enjoy my time mentoring young engineers and seeing them grow. They are the future project managers and leaders at VHB.
VHB: You have a lot of planning and engineering experience in Florida. What factors are unique to this transportation market?
Arpita: Florida is the place to be if you are in the transportation industry. The Gulf Coast has tourism and industrial significance that demands well-maintained and well-developed connectivity across the region. Over the last few years, Florida has become one of the fastest-growing states in the nation. This results in more roads, highways, and infrastructure to support the incredible growth. The state's size gives transportation engineers and planners significant opportunities to develop new infrastructure to support the growing demand.

VHB: What transportation lessons does Florida have to offer on a national or even global scale?
Arpita: Florida is currently a hub for transportation innovation. For example, the Tampa Bay Next (TBNext) project is intended to modernize Tampa Bay's transportation infrastructure system and offers lessons on a national level pertaining to interstate modernization by incorporating express lanes. TBNext encompasses the improvement of the entire interstate grid serving and connecting the region along with interchange upgrades as needed.
Also, it is noteworthy that Florida is considering and constructing innovative interchange concepts like the Diverging Diamond Interchange (DDI) as well as alternative intersection concepts such as Displaced Left Turns (DLT), Restricted Crossing U-turn (RCUT) or superstreets, in various districts across the state for improved traffic operations that enhance safety and mobility.
VHB: We've talked some about your past and present. Let's pivot to the future. In what directions do you see the industry evolving over the next 10 years?
Arpita: The most important upcoming challenge is how the existing transportation network will support the presence of connected and automated vehicles (CAV). Being able to navigate these new technologies is a non-negotiable foundation for being a future leader in our industry. Pilot projects in these areas are underway, and Florida is in the forefront of research in this field. Florida Department of Transportation (FDOT) and Florida's Turnpike Enterprise (FTE) have developed a SunTrax state-of-the-art facility for this technology. While the automated features make driving much smoother and safer, a human driver is still needed. Fully automated vehicles won't be here tomorrow, but they will be here sooner than you would think. The time to prepare for their emergence is now.
Another emerging technology that VHB is closely involved with right now is electric vehicles and the charging stations that support them. The ability to support growth in areas like these will be critical to transportation's evolution. It will be an ongoing, but rewarding, challenge to develop a supporting roadway grid with technology that enhances safety and mobility for all road users.
Connect with Arpita via email or on LinkedIn to learn more about transportation planning and design at VHB.