VHB transportation planners and engineers played a pivotal role in helping organize and plan two important trips for Metro Atlanta elected officials and business leaders invited by Metropolitan Atlanta Rapid Transit Authority (MARTA) to experience High-Capacity Transit (HCT) in action. VHB organized and took part in a delegation of DeKalb County leaders to San Diego, California, and Clayton County leaders to Indianapolis, Indiana. The visits served to advance critical conversations about implementing Bus Rapid Transit (BRT) and traditional rail transit technologies, and to elevate transit connections across the region's urban and suburban areas—where population and redevelopment are moving forward.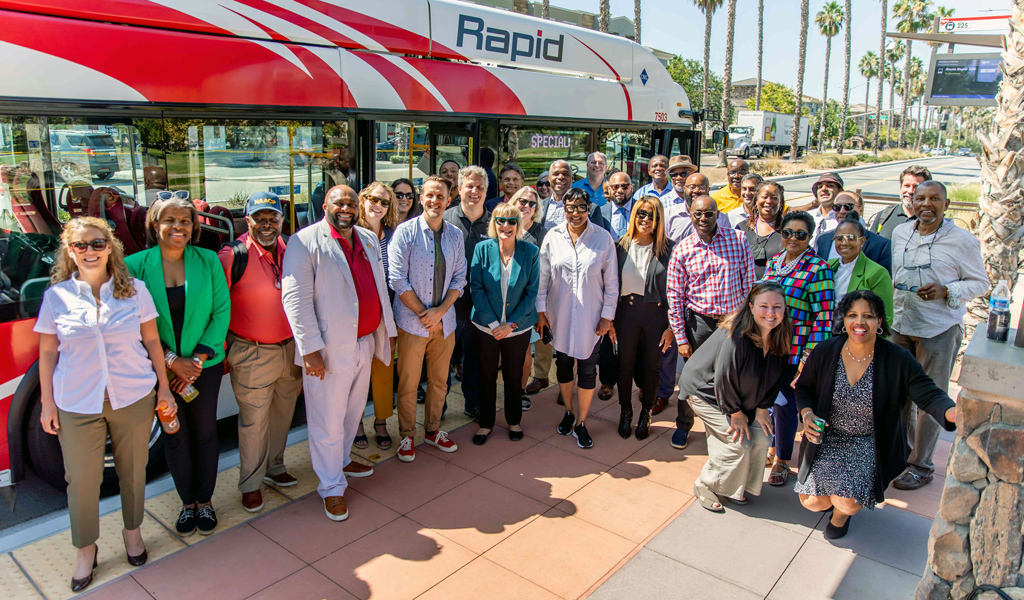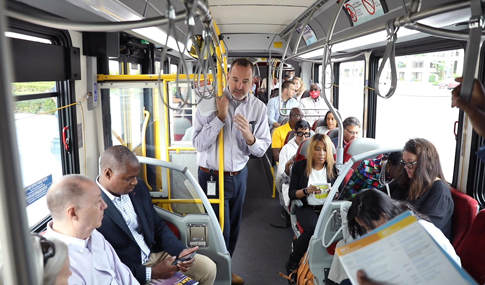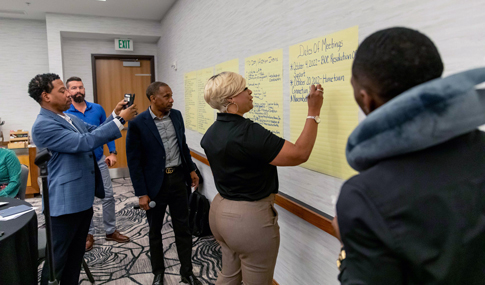 VHB has a deep understanding of transit priorities in Georgia and has worked closely with MARTA, the City of Atlanta, and Fulton, DeKalb, Clayton and neighboring counties on transit- and transportation-related initiatives, including the Clayton Southlake BRT expansion and feasibility studies for BeltLine transit and new transit hubs throughout MARTA's service area. Our understanding of MARTA's needs helped inform the trip itinerary and make key connections with national transit professionals and local stakeholders in both cities who could speak to their experience with High-Capacity Transit (HCT), BRT, transit-oriented development (TOD), job creation, and other transit improvements in their communities. The delegations included County commissioners, Mayors, Georgia state representatives, chambers of commerce, regional transportation agency partners, citizens advisory groups, and other officials.
Atlanta does not currently have BRT, but cities like Indianapolis and San Diego say it can solve the challenges that rail transit seeks to resolve, at a lower cost and with less impact on infrastructure. In Atlanta, MARTA has plans for HCT expansion improvements to address social equity and drive ridership for a sustainable, resilient transit operation.
Grady Smith, VHB Principal & Southeast Region Transportation Director, attended the Indianapolis IndyGo BRT trip with the Clayton County delegation, in a city where BRT is thriving, to help gain consensus on actions to advance BRT along the SR 54 corridor in Clayton County.
"Trips like these allowed Clayton County leaders to see first-hand how peer cities implemented similar transit initiatives, then take those lessons home and apply them to our local and Atlanta regional objectives," Grady said. "We gained insight on critical design, construction, political, and funding challenges inherent to delivering HCT systems and learned key lessons in communicating a shared vision and clear purpose for transit."
Indianapolis' IndyGo BRT stakeholders expressed a strong connection between workforce development, economic development, and transit improvements. Goodwill Industries partnered with Cook Medical on workforce training for their new medical services device manufacturing facility to be served by a new BRT Purple Line in an area of the city which was previously under-invested. Cook will provide more than 300 new jobs at their facility and employees receive benefits like college funding, transit reimbursement and health insurance. Cook Medical is even assisting residents build a new grocery store in a neighborhood previously considered a food desert.
"A lot of times we talk about TOD in terms of high-density developments, but the Indianapolis trip taught us that BRT's impact on equity through workforce development is substantial," said Jenny Wang, AICP, Senior Transit Planner at VHB, who planned and attended both trips.
"Our job was to make certain that the delegations experienced first-hand the opportunities BRT can create when it is intentional, is co-created with the community, and has partnerships in place that reach the underserved and improve quality of life for everyone," said Jenny.
Tommy Crochet, PE, PTOE, VHB's Southeast Region Transportation Services Lead, said DeKalb County delegates expressed the immense value of the trips in helping to guide future local decisions.
San Diego has both LRT and BRT systems in place to serve different needs, and their design and implementation included a robust community engagement and education strategy that allowed the public to understand the different options.
"In San Diego, we saw that BRT was a progressive solution and not a lesser option," said Tommy. "Collaboration among transportation agencies was critical in project delivery. Strong, early stakeholder engagement helps the mode of transit meet demand and not be underutilized in the community."
With new federal monies allocated to implement important infrastructure projects, transportation agencies need informed partners that can move quickly to help local communities make smart investments. VHB's transportation planners, engineers, and design professionals are helping a number of transit agencies and communities across Atlanta understand how to prioritize, balance, and implement transit projects and optimize grant funding for projects in urban, suburban, and rural environments.
To learn more about high-capacity transit in your community, contact Grady Smith.