Northwell Health recently celebrated a significant milestone in South Shore University Hospital's transformation into a premier regional healthcare center, as construction has commenced on its new $468 million pavilion. This expansive 190,000-square-foot pavilion, located in Bay Shore, will improve access to medical services in the previously underserved eastern part of Long Island.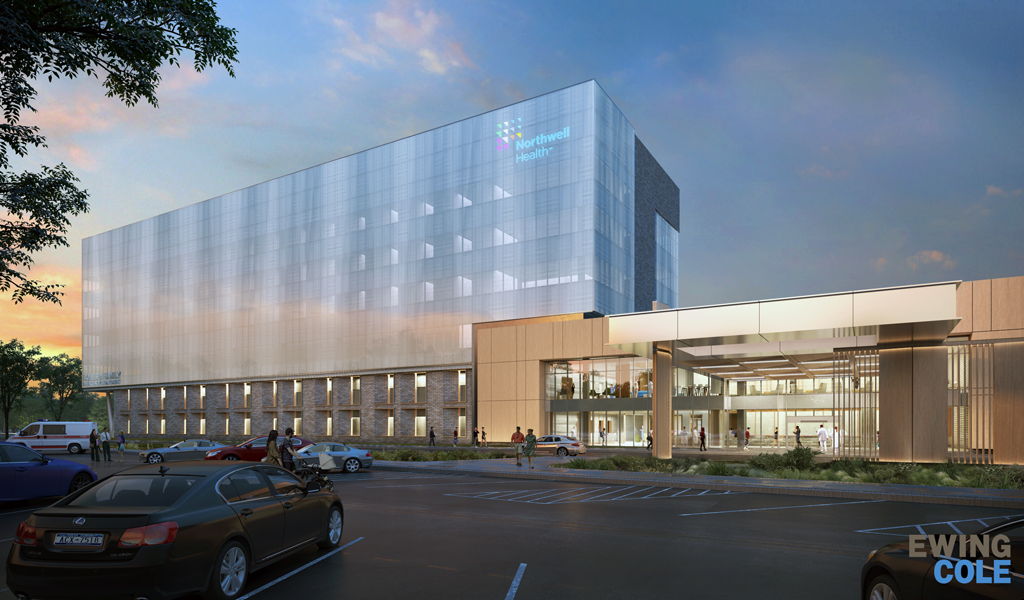 The new pavilion is set to redefine the healthcare landscape in Suffolk County, offering advanced cardiac, neuroscience, and trauma services. Once completed, it will feature up to 90 private patient rooms, 10 state-of-the-art operating rooms, and additional procedure rooms, further enhancing the hospital's capabilities. The project, slated for completion by mid-2025, will increase the hospital's bed count to 400 and boost patient volume by 5,000 each year.
VHB has been instrumental in the project since its inception in 2018. VHB helped prepare a master plan for the hospital's expansion, which included a 1,000-car parking garage, an oxygen expansion, a 12-bed addition in the Brackett Building, and, most recently, the new pavilion.
Taking a comprehensive approach to the project, VHB's contributions have covered site/civil engineering, traffic design, and environmental permitting, including SEQRA and wetlands permits. The team also addressed the unique challenges of redesigning and relocating every utility on the campus while the hospital remained fully operational. Additionally, VHB led the sustainability design for drainage, creating rain gardens to manage stormwater runoff, a crucial consideration given the high groundwater level of the campus.
VHB's involvement also included the design of pedestrian-friendly features such as crosswalks and lighting that aligned with the town's Downtown Development District, enhancing the community feel of the hospital campus. VHB's aviation team confirmed compliance with FAA regulations for the helipad and all buildings, while their utilities team coordinated water main extensions and other essential services.
Beyond technical contributions, VHB's proactive approach extended to managing all entitlements, working with authorities like the New York State Department of Transportation (NYSDOT), Suffolk County Department of Public Works, National Grid, the Town of Islip, and others. This strategic orchestration of entitlements confirmed all necessary permissions were secured simultaneously, which helped manage client expectations and maintain a smooth project timeline.
"It's important to us to act as true partners to our clients," said Courtney Riley, Director of Land Development at VHB. "Our team's commitment extends beyond our design work—we're focused on developing strategies that guide our clients and project owners, like Northwell Health, throughout the entire, complex process."
The new pavilion is the final piece of the hospital's master plan. VHB's comprehensive involvement, from concept to construction, has been pivotal in bringing this transformative project to life. As the project moves forward, VHB will continue to support Northwell Health in its mission to provide world-class medical services to the communities it serves.
Learn more about VHB's healthcare solutions or contact Courtney Riley today.