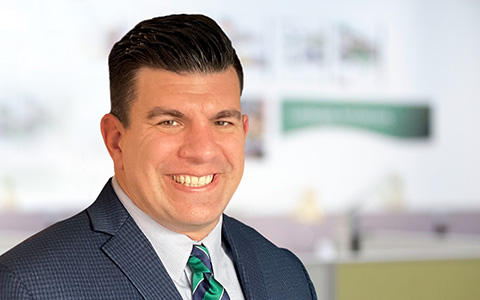 VHB is expanding its aviation practice with the addition of Dave DuBois as Senior Airport Planner in the Southeast. Dave will collaborate with VHB aviation clients to enhance their airport planning projects, implement sustainability and navigate the significant investments set aside for aviation in the recently passed infrastructure bills.
Dave has more than eight years of experience helping aviation clients with airport master planning, demand/capacity analyses, forecasting, and cost/benefit analyses. At VHB he will be working with clients, including the Syracuse Regional Airport Authority, to update master plans, assess Unmanned Aerial Systems (UAS) infrastructure needs, and assist the aviation practice in providing resiliency and net zero roadmaps.
"Dave joins VHB at an exciting time for our aviation practice," said Fin Bonset, CM, ACE, ENV SP, Director of Aviation Services. "The industry is in an era of big change with new innovations, like advanced air mobility via electric vertical takeoff and landing aircraft (eVTOL), a push for overall aviation industry sustainability, and vertiport feasibility and licensing studies. I'm confident he can lead expansion projects for aviation clients that both meet demand and help them become more resilient from top to bottom."
Dave is well-versed in GIS applications for airport planning, benefit cost analyses, demand/capacity studies, forecasting, and facility requirements determinations. Aviation clients trust Dave to help manage resources, forecast demand, and plan for the future. He has played a major role in many successful projects for a diverse array of clients across the U.S., which include spaceport licensing and feasibility projects, and multiple airport master plans that most notably include Gerald R. Ford International Airport, Cleveland Hopkins International Airport and Salt Lake City International Airport. His previous career as an award-winning science teacher in Florida gave him the opportunity to share his passion for environmental education and inquiry with a large population.
"Recovery from COVID-19 air travel happened quickly and commercial travel is booming," said Dave. "There's a lot of opportunity now, especially with the recently passed infrastructure bills, so it is important that airports have projects that are shovel-ready when the federal or state grant monies become available."
Dave graduated from The University of Florida with a Master of Arts degree in Urban and Regional Planning, and from Central Michigan University with a Bachelor of Science in Education.
Learn how VHB partners with aviation clients to prepare for the future by connecting with Dave.