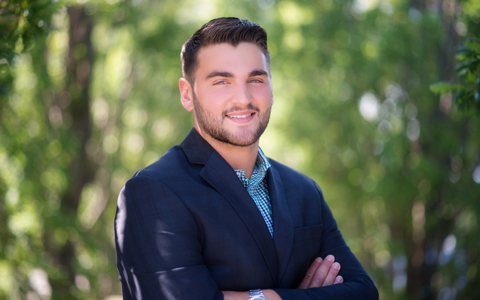 Michael Andreassi, PE, has been named to Long Island Business News' (LIBN) prestigious 30 Under 30 list after strong recommendations by his peers and senior VHB leaders. The award honors 30 bright and dynamic young professionals ages 30 and under, who contribute to the Long Island community through public service and who have made significant strides in business.
In the last few years, Michael has worked his way towards becoming a trusted leader in VHB's Hauppauge office. For him, it's all about collaboration with the company's various teams and taking a proactive approach to leadership. On Michael's journey to becoming a project manager at VHB, he has served as a mentor for numerous entry-level and mid-level co-workers. He offers advice and guidance to his peers to help them grow in their career and become a well-rounded member of the team.
Michael has played a significant role in some high-profile projects on Long Island, including New York State's very first Topgolf sports entertainment facility, a project Michael started working on in 2015 as an intern and finished in 2021 as a project manager. Other projects include the addition of a ±370,000-square-foot patient care pavilion at Catholic Health's Good Samaritan Hospital, site redevelopment for the Long Island State Veteran's Home, and the recently completed Residence Inn by Marriot at Roosevelt Field Mall.
"Thank you to Long Island Business News for this incredible honor. Since I started at VHB, the opportunities I've had over the years to grow my career and strengthen my team have been so valuable, this recognition is a great encapsulation of that experience so far," Michael said. "VHB's support for my participation in organizations like the Association for Habilitation and Residential Care (AHRC) Suffolk Foundation, Long Island Real Estate Group, and Long Island Builder's Institute, alongside programs like VHB Cares and the College Ambassador program, have helped me not only build my network and leadership skills, but have given me a solid foundation on which to give back to my fellow VHB-ers and grow into the next phase of my career."
Michael was recognized among other 30 Under 30 honorees at a special LIBN event on November 17th.
For more information, contact Michael Andreassi.