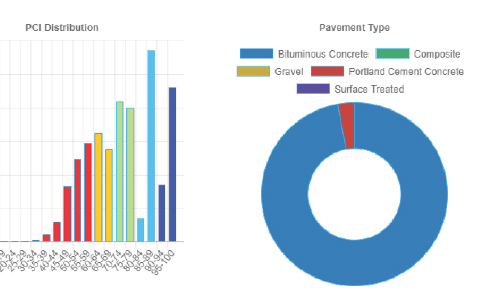 Imagine you're a town DPW director, responsible for maintaining 284 miles of road, 250 streets and traffic signals, 400,000 feet of street lines, 10,300 traffic and street signs, and 25,000 feet of crosswalks. This is a real example from a Boston suburb—and a tough job without the right tools.
Not surprisingly, one of the most essential tools was developed right here at VHB. It's called SAM IS—Smart Asset Management and Inventory System. The SAM IS platform allows public and private entities to catalogue, manage, and maintain their infrastructure assets, including pavement, sidewalks, stormwater assets, culverts, and more.
With SAM IS, that DPW director could generate a sophisticated report on the town's pavement conditions and proposed plan in minutes—a task that would otherwise take hours or days. The SAM IS map view provides a snapshot of the entire town, which is a whole lot easier and more powerful than wading through a list of street names.
SAM IS made its debut in 2016, and since then the program has undergone continual improvement and expansion to better serve our growing roster of clients, who range from municipalities to entire counties across five states in the Northeast and Midwest regions. Last month, the SAM IS team released version 1.5, which allows users to layer and interact with multiple asset types within the same view.
VHB designed SAM IS as a modular, highly configurable solution, setting it apart in the marketplace. Our customers buy just what they need, without blowing their limited budgets on features they'll never use. And because SAM IS works as a SaaS platform (software as a service), we are continually enhancing the offering, listening to our customers, and evolving to meet their needs.
Consistent with VHB's strategic emphasis on applied technologies and integrated services, SAM IS draws on Esri's state-of-the-art ArcGIS Online platform and complements our engineering services. SAM IS customers know that VHB is a seasoned firm that understands their full spectrum of engineering needs—on the tech side and also where the rubber meets the road.
To learn more, visit samisbyvhb.com, or contact Alan Belniak, SAM IS Senior Product Manager.