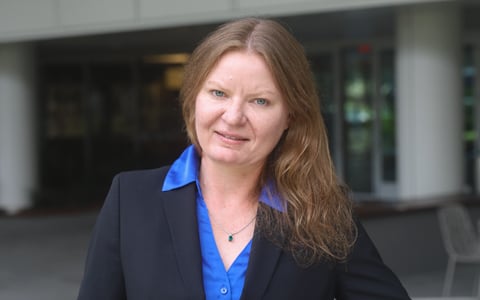 VHB welcomes Danielle Van De Loo, PE, as Senior Project Manager on the Orlando Land Development team. She will lead the development, design, and permitting of new land development projects across Central Florida. With an increasing annual population of more than 300,000 residents, Danielle joins VHB at an important time in residential, multi-family, and single-family property development, as this region of the Sunshine State continues to experience tremendous growth and a booming housing and industrial market.
Danielle is a strong advocate for creating communities that connect residents to opportunity with a smart mix of residential, commercial, and civic uses that are sustainable, equitable, and pedestrian- and transit-friendly. She has more than 15 years of engineering experience managing, planning, and designing developments including site planning for commercial, industrial, and residential projects ranging from half-acre to 2,000 acres in size, including Twin Lakes, a 700+ acre, 2,000+ unit residential multi-phased development in Osceola County. Danielle's experience in master planning, permitting, and design for drainage, earthwork, utilities, wetland and species mitigation will help deliver projects on-time and within budget. She will provide insight to clients on development code criteria that considers recreation, setbacks, and road networks.
"Danielle's broad experience in land development brings creative solutions to our clients' most critical real estate challenges," said Adam Smith, PE, LEED AP, Assistant Director of Land Development. "She will help move projects forward via thorough and quality-driven site permitting and approvals."
At VHB, Danielle will help deliver an integrated approach to real estate and urban planning projects for innovative new communities like The Grow, a farm and garden community in East Orlando, and expansion of Eagle Creek in the smart and connected community of Lake Nona, Florida.
"VHB is planning communities and homes that elevate healthy-design principals and sustainability with the well-being of current and future generations in mind," said Danielle. "Our team is eager to deliver on game-changing development projects in Central Florida."
Danielle earned her Bachelor of Science from the University of Central Florida (UCF) in Civil Engineering and is a Licensed Professional Engineer in Florida. She also holds an Inspection Erosion Control Certification which helps clients minimize impacts from sedimentation and uncontrolled erosion on construction sites.
To learn more about Danielle and her experience connect with her on LinkedIn, or via email.