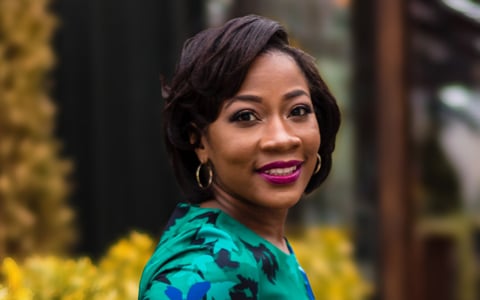 VHB is pleased to welcome Angel McCoy as a Senior Project Manager focusing on renewable energy and offshore wind projects nationally. In this role, Angel will help develop and implement VHB's overall strategy for the energy market in addition to managing multi-disciplinary teams in supporting the environmental permitting and licensing, engineering, and construction compliance phases of renewable energy projects.
With more than 16 years of experience, Angel has been a leader in driving renewable energy programs, managing permit applications, site assessments and construction and operations plans, Environmental Impact Statements, and community and stakeholder outreach. She has authored numerous articles and papers and is a frequent speaker and moderator on topics relating to the future of offshore wind, renewable energy, and climate impacts at conferences nationally.
Prior to joining VHB, Angel was the Interagency Stakeholder Coordinator at the Department of the Interior's (DOI) Bureau of Ocean Energy Management (BOEM) in the Office of Renewable Energy Programs where she primarily supported the engineering and technical review of ocean-based renewable energy facilities. Her responsibilities included wind resource analysis for wind energy area identification, radar impacts mitigation, wind facility lighting design review and approval, and COR for research studies. She authored the "Guidelines for Lighting and Marking of Structures Supporting Renewable Energy Development", a significant accomplishment in her federal service career.
"Angel's experience working on large, complex, multidisciplinary offshore wind projects will greatly enhance our energy practice moving forward," said Kristoffer Dramby, CWB, PWS, CE, Vice President, Energy Market Leader. "We're confident that Angel's leadership skills and industry knowledge will help us deliver value-added solutions for our clients as they work to achieving their clean energy goals."
Angel is the founder of Discover Earth Camp where she provides earth science education services for youth. She holds a Bachelor of Science degree in Meteorology from The Pennsylvania State University and a Master of Science degree in Environmental Policy and Management from American Public University. She is an active member of the American Meteorological Society and is a volunteer with Special Olympics Maryland.