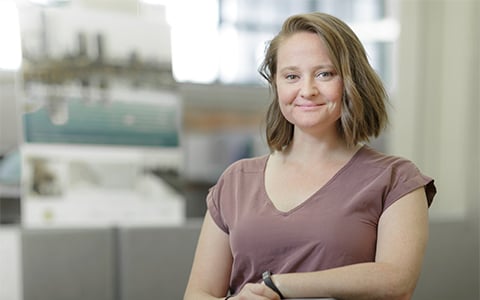 Cassi Patterson, an Urban Planning and Design Professional in VHB's Richmond Office, has been appointed Co-Chair of the Safe & Healthy Streets Commission in the City of Richmond, VA. The Safe & Healthy Streets Commission is associated with the City's Transportation Engineering Division and supports the City's efforts to keep all users of the road safe, whether they walk, bike, ride transit, or drive. The Commission meets quarterly to collaborate and develop recommendations to address safety issues and support the City's alignment with the global Vision Zero strategy to eliminate all traffic fatalities and severe injuries.
"With Cassi being a City of Richmond resident herself, her advocacy for vulnerable users of the City's streets and support for active transportation alternatives stems from a direct understanding of what it's like to travel through Richmond, whether by walking, biking, or public transit," said Chris Daily, Transportation Manager for VHB's Richmond office. "This perspective makes her the ideal fit for Co-Chair as she truly wants to make travel accessible and safe for all residents."
In addition to being actively involved in the Safe & Healthy Streets Commission, Cassi has a history of volunteering her time and talents to advocate for bike riders and pedestrians throughout the City of Richmond. She plays an active role in the Richmond Complete Streets Coalition, and is part of the Richmond Planning District Commission, Active Transportation Working Group, which exists to make the region more bike and pedestrian friendly. She also hosts weekly community bike rides with Breakaway RVA, a non-profit organization that helps all riders regardless of skill level, feel more comfortable biking in the street. In addition, Cassi has a history working for the Richmond City Health District to assist with their Safe Routes to School (SRTS) and city-wide health initiatives, and is a former intern with Richmond advocacy group, Bike Walk RVA.
VHB's Richmond office has a long and successful history working in the City to bring innovative transportation solutions that support the growth in the downtown area. Past projects include the Scott's Addition Transportation Plan, Shockoe Valley Street Improvements, new bicycle lanes on nine corridors across the City, Forest Hill Traffic Calming and Speed Study, the James River Park Master Plan, the Vision Zero Action Plan, and the City's "Better Streets Manual," one of the first complete streets guidance manuals adopted by a municipality in Virginia.
To learn more about the Safe & Healthy Streets Commission or VHB's suite of transportation service offerings, contact Cassi Patterson.